What are knurled handles?
What are Knurled Door Handles?
Knurled Door Handles have the grip section carefully cut and etched with a pattern of straight, angled or crossed lines pressed or cut into the metal. This knurled design forms a detailed diamond-cut pattern that is both easy to grip and attractive to look at.
Alexander & Wilks have created a range of beautiful knurled door handles and cupboard handles as part of their high-quality range of ironmongery. The Alexander & Wilks Knurled range of handles and knobs have been created with the best precision engineering to ensure that the diamond-cut finish used on their knurled door handles is of the very highest quality. Exactly symmetrical, and beautifully cut, the ridges criss-cross perfectly to leave a diamond shape ridge with facets that then catch and reflect the light, almost creating their own sheen and lustre.
How to pick knurled handles
The popular knurled finish for door handles and knobs that we see used on hardware and ironmongery today is proving to be a continuing trend that seems destined to last well past just the currently fashionable post-industrial look.
We always recommend that you look to specify the better quality knurled finishes, as there are many types available. The lower quality option of scoring simple lines to create an imitation knurled effect does not allow for the same feel in the hand and does not catch the light in the same way.
Alexander & Wilks Knurled Finish Door Hardware utilises more high-quality knurling engineering. This type of finish is more difficult to achieve but is all part of their commitment to only supplying the finest quality that easily stands out.
What other hardware might I need for a door?
Alexander & Wilks have an expanding collection of other ironmongery that matches the knurled door and cupboard handles to create a cohesive theme throughout the home. Look out for the thumbturn & releases, door stops and escutcheons that have been designed for use with these high-quality handles.
What accessories will complete the industrial look?
Look at key elements like lighting and seating to complete the industrial knurled look. Lighting by Industville is perfect for pulling the interior design together without adding needless accessories that make the decor seem too 'staged'. Use their 'Brooklyn' or 'Edison' collections to bring a touch of the revolution to your space.
Find more advice on how to get the ultimate industrial interior here.
What is a Knurled Grip?
The beauty of the knurled finish is the texture that is created, giving a real tactile design that encourages you to want to touch the hardware. The knurled finish is actually used to good effect for those who are visually impaired because of the immediate effect when our fingers feel the unmistakable texture. But it is more than just useful, for example, whenever we put these on display in a showroom they have the effect of drawing people to want to touch and feel the finish. Our eyes are telling us that the knurled finish will be interesting to feel, and almost subconsciously says something to us about the quality of the piece.
The Alexander & Wilks brand takes its inspiration from legendary British engineers and inventors from the industrial era and the early 20th Century. The range of Knurled Door Handles has all been named from iconic British aircraft such as the Spitfire, Hurricane and Harrier. The knurled effect was often used on switches and dials in an industrial application to allow a good grip. In our modern homes and offices, we aren't so concerned about the grip, but there is still something about the knurled pattern that feels very reassuring and pleasing to the touch.
Aesthetically it works too, as the eye is instantly drawn to the complex knurled patterns that catch the light and add an interesting depth and dimension to the metal finish. It has the ability to transform a cold harsh design into a warm enticing one.
How to choose the right knurled handle finish
The knurled door handle finish used on the grips is particularly well suited to the warmer metal tones such as bronze, satin brass, and nickel. These finishes are very on-trend at the moment, with a move away from the traditional polished brass and the cold colours of polished chrome.
Try polished nickel silver and satin brass golden knurled handles for a subtle yet bright hardware look, or the satin muted colours and finishes of Black and Antique Brass to give a more luxurious, darker finish to the interior design trends that are very en-vogue currently.
Alexander & Wilks took the quality of their knurled finish to the top level and also insisted that a PVD Hard Coating is applied to the metal. This allows the knurled design to really shine, and the extra hard coating means it will stay that way for a lifetime. Alexander & Wilks are so confident in the durability of their knurled PVD finish that they apply a 25 Year Finish Guarantee!
Knurled Kitchen Door Handles
We are seeing many leading designers using the knurled finish to a good effect on kitchens and bathrooms with stunning knurled cabinet handles and matching knurled cupboard knobs in a range of different silver, brass and black finishes.
The Alexander & Wilks Brunel Cabinet Collection looks perfect in a modern setting, with the simple and traditional T-Bar Handle design, now brought to life with different sections milled and scored with the diamond-cut knurled finish. Matched onto a modern cabinet design in a striking paint colour these knurled handles make a real design statement. Silver knurled handles are the simplest choice for coloured cabinets but brass knurled handles or even try pairing black knurled hardware with pops of colour for a modern statement kitchen.
See our inspiration blogs for advice on how to explore colour and style trends in your interior design.
What started as an industrial design feature to improve grip, has become a modern style icon that is very versatile and used in so many different ways through interior design.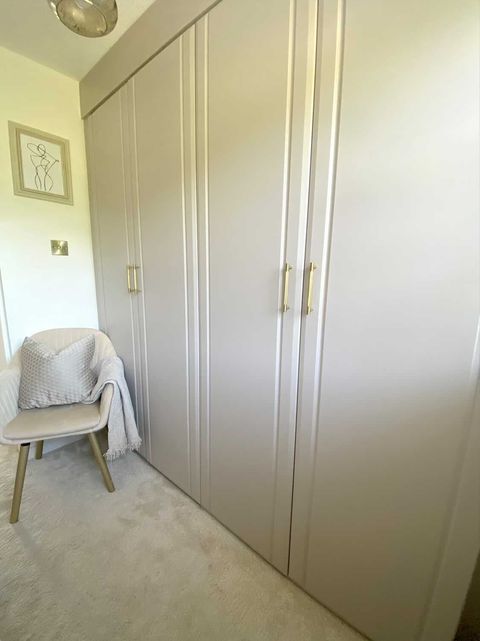 If you would like to incorporate this design classic into our next interiors project then call 01228 516516 to speak to the team at More Handles who will be able to answer your questions and make some helpful suggestions on the knurled range of hardware.