What Are PVD Door Handles?
PVD stands for Physical Vapour Deposition
All very technical sounding, but basically it means a thin coating or film is applied to the solid metal base. The coating is invisible and so does not change the look and feel of the metal, but creates an incredibly hardwearing finish. A perfect solution therefore for high quality door furniture and architectural ironmongery.
There are major advantages in specifying your door handles and hardware with a PVD coating. The finish remains as good as it looked when you first opened the box! PVD Door Handles are sometimes referred to as Stainless Brass or Everbrite, referencing the long lasting nature of this quality finish.
No special cleaning is required for PVD Door Handles. They are maintenance free and will simply require a gentle wipe over periodically with a warm soapy cloth and then dried.
PVD Door Furniture is particularly useful when fitting items externally. When fitted outside brass and metal door handles are exposed to the elements and weather, and over time this will cause the finish to deteriorate. This is especially the case with standard lacquered brass, or plated metal finishes.
PVD Door Hardware is the perfect choice to fit outside as it can easily with stand the moisture and  acidic elements in the atmosphere. It is an excellent choice for coastal areas, as PVD Door Furniture can even withstand the salty sea air, which rapidly corrodes other metal finishes.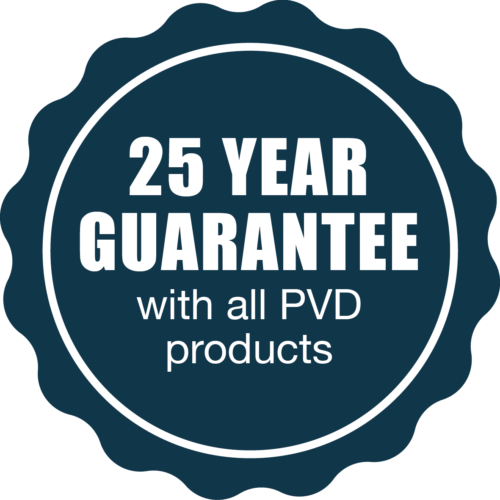 PVD Door Furniture from Alexander & Wilks carries a 25 Year Finish Guarantee. We can offer this lifetime guarantee as the PVD finish is extremely durable, and prevents the common issues of tarnishing, rust and lacquer breakdown that often effect brass and metal handles.
The new door handles, cupboard handles and door hardware from Alexander & Wilks uses a high quality PVD coating to create a beautiful, hard wearing and long lasting finish. The Alexander & Wilks PVD Door Hardware range is available in a choice of different finishes and colours, but all the special PVD coating applied;
Black PVD
Polished Nickel PVD
Satin Brass PVD
Satin Nickel PVD
Some companies only apply a PVD coating to their external door hardware, but Alexander & Wilks have taken the bold step of adding this high quality finish to PVD Cupboard Handles and other PVD Door Ironmongery that has internal applications.
This means the Alexander & Wilks PVD Doorstops, Alexander & Wilks PVD Bathroom Thumbturn & Release, and Alexander & Wilks PVD Escutcheons all match perfectly in the same Physical Vapour Deposition finish. This allows you to create a perfectly coordinated look around the house on all the ironmongery, and the confidence of knowing that you have fitted the very best durable and beautiful products.
The PVD - Physical Vapour Deposition coating is just part of the commitment from Alexander & Wilks to create the best quality ironmongery available. The beautiful Spitfire Knurled Lever on Round Rose is a great example which is made with the 25 Year PVD finish, and we really love the design of this handle. The PVD finish highlights the textures of the machine knurled grip and creates a stunning tactile finish.
Various different industries use PVD applications from spectacles and windows, to computer chips and even NASA - Well if it's good enough for them, it's good enough for the new Alexander & Wilks Door Handles Collection!
If you would like to specify your door hardware with the 25 year guaranteed Alexander & Wilks PVD finish, and elevate your ironmongery with this space-age technology, then please contact one of the team at More Handles who will be pleased to talk you through the different options available.
You can then fit it and forget it for the next 25 years!
If you have any questions please feel free to contact one of our sales team at More Handles HQ and we will be happy to help.
TEL: 01228 516516
EMAIL: sales@morehandles.co.uk