Owning a period property can be very rewarding, but restoration and repair can often be a daunting challenge, especially with regard to door handles, door knobs and ironmongery fittings.
Maintaining that feel of period authenticity you originally fell in love with can be difficult when it comes to sourcing door handles, door knobs, hinges etc. The modern mass-produced fixtures and fittings with their clean lines, uniform finish and identical shapes often lack the character required for older traditional doors. They tend to look out of place against original woodwork or alongside antique fittings, especially in a listed property.
Our
From The Anvil
range of door fittings are hand-forged by master craftsmen using traditional English blacksmithing methods. The designs are based on timeless classics and the hand-forged process means no two pieces are identical, each one a unique yet functional work of art that will only enhance it's setting.
We have a range of
4 different finishes
;
Traditional Beeswax
,
Powder Coated
,
Pewter Patina
, and the new
Bronze
finish.
The traditional Beeswax is our most popular finish. All products in this range are treated with a special wax that imparts a subtle richness to the metal. This gives excellent protection where products are fitted internally and occasionally maintained with wax.
The black powder coat finish provides an attractive and durable corrosion resistant finish that can last for many years. It is an excellent low maintenance option for exterior ironmongery applications.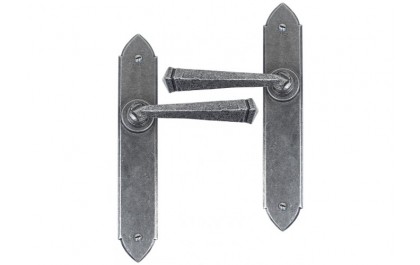 The pewter patina finish beautifully highlights the texture of the hand forged steel. It has excellent anti-corrosion properties and is therefore well suited to both internal and external applications. We have a few designs that are unique to the pewter range, and again look very sympathetic in an older building, or where a more traditional style is required.
The new rustic bronze finish is another steel based product which is then coated with a permanent bronze finish. Bronze harks back to a bygone era when only aristocrats and the well-off could afford to enhance their stately homes, mansions and town houses with the rare and expensive bronze metal.

Our permanent bronze finish is quite different to other oil rubbed bronze versions on the market. The finish will not wear and requires very little maintenance being well suited to external or internal applications.
'
From The Anvil
' at
www.morehandles.co.uk
have a truly beautiful range of door furniture, produced with a real understanding of what period and traditional properties need - an individual character, a bespoke look, and a little TLC!