What is a Tubular Latch? How to choose the correct Tubular Latch
Tubular Latch Sizes
Architectural Ironmongery can be a confusing place - filled with different terminology and jargon that can quickly become confusing. The More Handles 'How To' guides series of articles aims to break down confusing industry jargon, and help explain the differences between similar items where confusion can easily occur. This article features a series of annotations and footnotes, aimed at explaining some architectural terms. You will find the annotations at the bottom of the page, and they are marked with the following symbols: *, **, †, ‡, §, ‖, ¶ ☞
Today we are going to take a look at Tubular door latches. Firstly, what is a tubular latch? A tubular latch is an item of ironmongery which is usually morticed* into a door, which allows the door to be opened and closed by means of a Door Handle or Door Knob. The word 'latching' is the act of a door being closed, and remaining held shut. The door latch is one of the most important pieces of hardware there is, and we're going to take a look at the most common types of tubular latch available, and outline what latch you should use in various situations. We hope to help you choose the right tubular latch for your door.
Aside from the Tubular latch there are various other types of latch, including the Flat (or upright) Latch, the Rim Latch, The Sashlock, the DIN Latch, and the Night Latch. We we will briefly take a look at these other types of latch at the end of this article.
Now, let us examine what the tubular latch is, and where one would use it. Firstly, the Tubular Latch is without doubt, the most common type of door latch on the market today. The tubular latch is usually a rectangular steel tube, which at its most simple contains a spring-loaded follower** and latchbolt or 'tongue' of triangular metal at the end, which retracts to open the door, and springs back to close or 'latch' the door and keep it closed. The tubular steel casing makes the tubular latch very simple to fit -often with one single drilled borehole, eliminating the extensive joinery work with a jig or chisel, needed to fit larger latch or lock cases. For this reason the tubular latch has become a favourite of Joiners and DIY enthusiasts alike. The simple tubular latch is available in a staggering variety of different sizes, shapes, and quality levels. Often overlooked as a minute detail within a project, we recommend that some level of consideration should be given to what type of tubular latch you use, because it is the item that has the largest single effect on the operation of your new door handles. We sell four basic levels of quality in the tubular latch – Economy, standard, double sprung, and heavy sprung.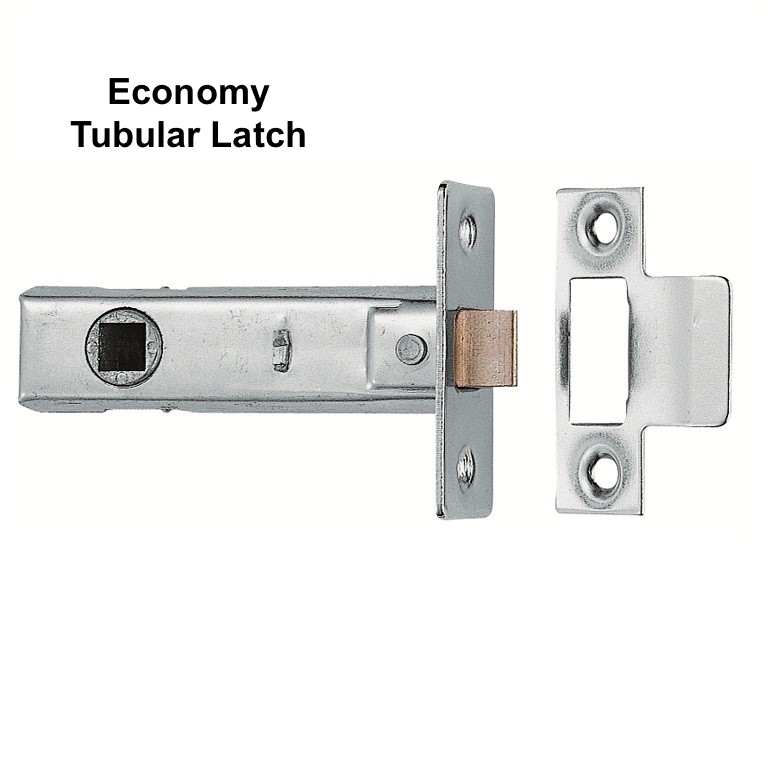 The economy tubular latch is cheap, and to be frank, its benefits end there. Often used in budget and council projects, the economy tubular latch is a one-piece latch with a fixed-on faceplate. It comes with a basic keep for the doorframe. The economy tubular latch should only be used when on an extreme budget, and the lifespan of a latch like this is not likely to exceed more than 10,000 cycles, so is not a permanent solution.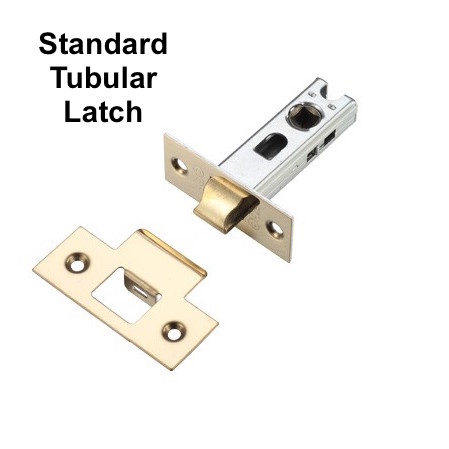 The standard tubular latch is the next step up from the budget latch. It has the same basic components, but the build quality is higher. This type of latch is used most commonly by house builders and developers on large projects, where cost is still a major deciding factor. This item features holes to accept bolt through fixings (†) so can be used with lever-on-rose door handles. The standard latch will last longer than the economy tubular latch, but is still not recommended for maximum quality, smooth operation, and longevity.
The double sprung tubular latch is our recommended latch for most projects. This latch is a very good quality piece and will provide many years of smooth operation. The term 'double sprung' means the latch has a separate spring for the tongue action, which allows a super soft close to the door. A separate spring on the spindle follower with a heavy action spring ensures that levers are always returned to the horizontal position. This Tubular Latch is a great choice for either lever handles or door knobs, benefiting from many features such as dust-box to tidy up the chisel marks behind the receiver keep plate, a secondary removable fore end which is easily removed when the door is painted, a hardened steel follower, a precision-guided latch-bolt, and the heavy dual-spring system. This item is an excellent choice for use with Door Knobs, as it is available in lengths upto 150mm. We recommend a minimum Backset (‡) of 82mm or more when using these latches with Door Knobs, to avoid any risk of scraped knuckles on the door frame.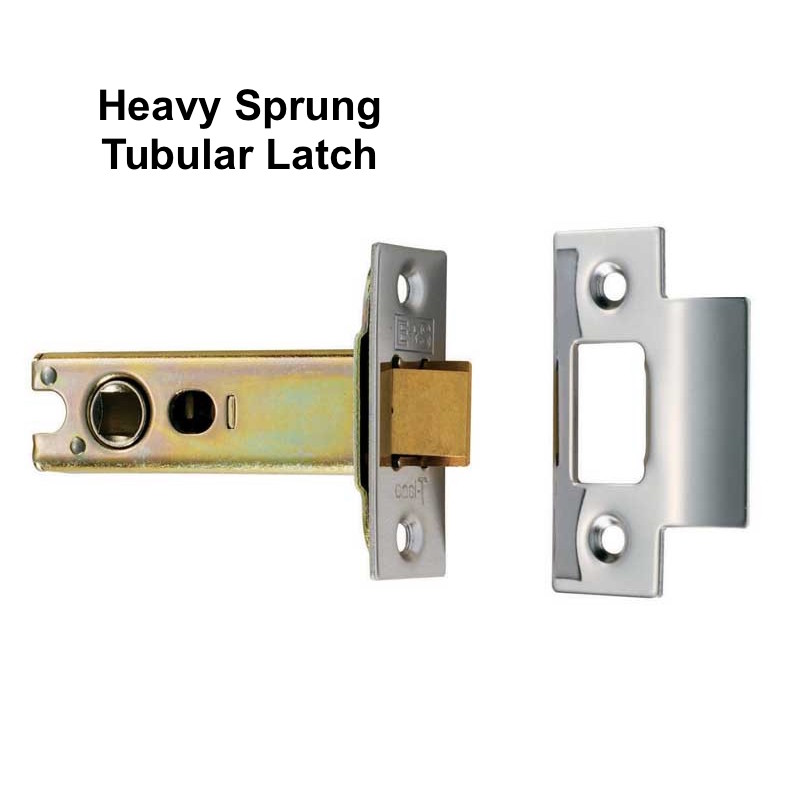 The Heavy Sprung Tubular Latch is the strongest latch in our range. The heavy sprung latch comes with all of the benefits of the double-sprung tubular latch, but has a more powerful return spring inside the casing. The latch closes very smoothly but has a powerful spring return. This is highly recommended when fitting handles or door knobs that are unsprung (§) or particularly heavy. We carry several specialist door handle collections such as the Steelworx Designer Levers. These have a low profile rose that is unsprung and are constructed from solid stainless steel, so the lever itself is very heavy. We always recommend the Heavy Sprung Tubular Latch for this kind of designer door handle, so that the heavy lever is always returned to a horizontal position, rather than drooping downwards.
How to Measure a Door Latch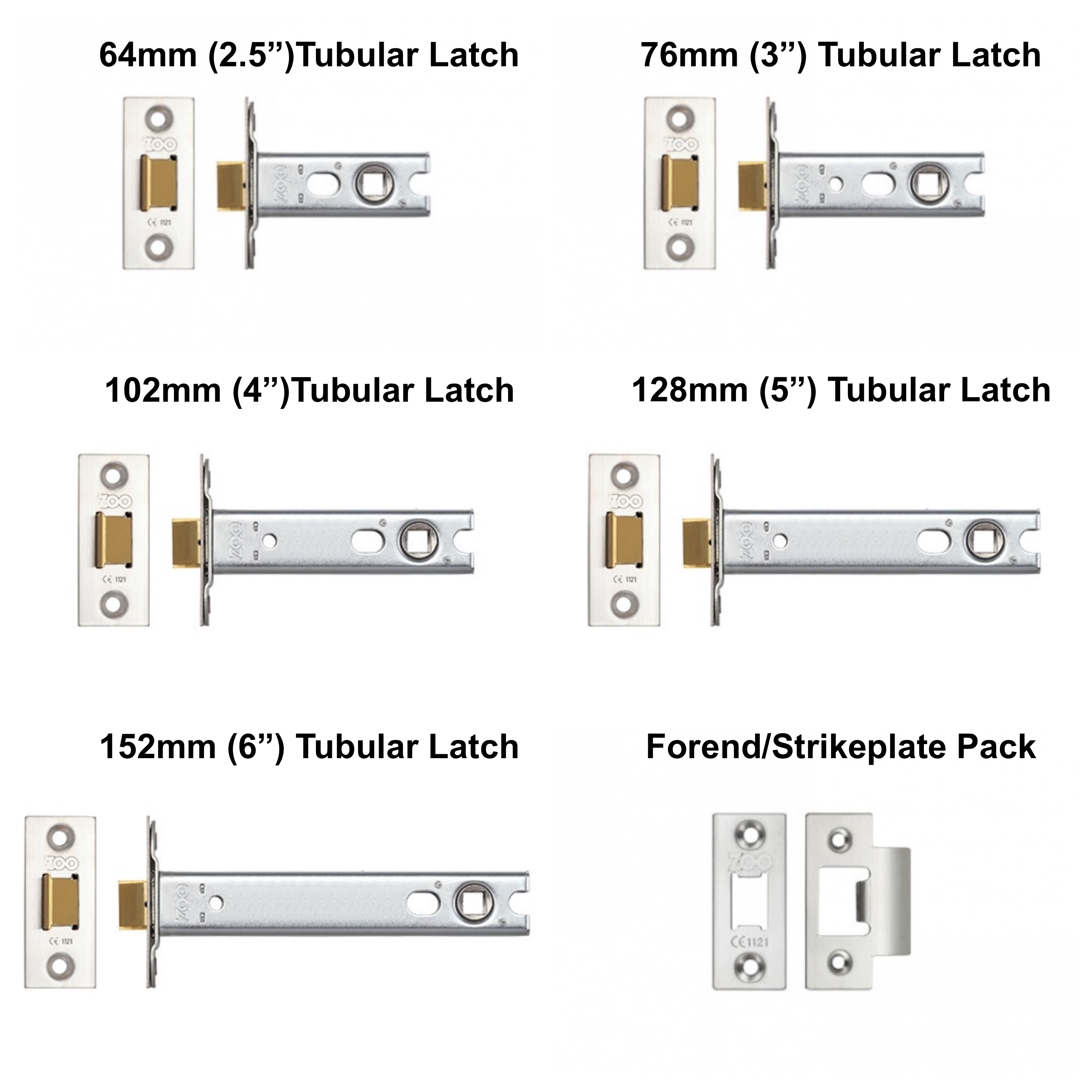 So, there you have the four basic quality levels of Tubular Latch available. Now let's take a look at tubular latch sizing. The Tubular Latch is available in a confusing array of sizes, for example, you can purchase our Double Sprung Tubular Latch in lengths of 64mm, 76mm, 102mm, 128mm, and 152mm. One of the most common questions we get asked as specialists is; ''Why so many sizes of latch, and which size do I need?" Well, these different sizes relate to the length of the latch, and this length basically means how deep the latch needs to be morticed into the door. This basically determines where your door handle will be positioned on the face of the door. If you have old doors and you're replacing existing latches, you will likely want to determine what size you already have so you can match it, and save yourself some remedial joinery work. If you have new doors, you need to make a decision on what size of tubular latch you need.
How to Measure a Tubular Latch
To do this, you need to take a few factors into account. If you're going for lever door handles, whether they are lever-on-backplate style, or lever-on-rose, we recommend you look at the 76mm Tubular Latch. A lot of people (and even some builders and joiners) default to the smallest size latch at 64mm, however on almost all doors, the slightly longer 76mm latch works much better aesthetically. Using the 76mm latch will give you a 56mm Backset, and that usually places the lever handle nicely in the
centre of the Door Stile (‖). The exception to this rule is where a situation in which you may have a narrow door stile, and large glass panels within the door. In this case, it is prudent to use the smaller, 64mm size of tubular latch, in case of fouling (and cracking) the glass panel. You can take a quick measurement to determine for sure what size latch you need. Do this by measuring the width of your door stile, and halving the measurement you have taken. That will give you size of Backset you need to get to position your handle in the centre of the door stile.
So, if the general rule for Lever Handles is to choose the 76mm size tubular latch, then what about if you're going to choose Door Knobs? Again, a common misconception (even, surprisingly within the building trade) is that the 76mm latch should be used, across the board, with Door Knobs. This is not the case. 76mm is the absolute minimum size that can be used with Door Knobs, but in some cases, even the 76mm is too short. So, why is this? The answer is, if the Door Knob is set on too short a latch, it will be much too close to the door frame. The turning action required to operate a Door Knob always requires a person's knuckles to rotate, and end up between the Door Knob and the door frame. If the latch is too short, you will find that your knuckles get stuck in the small gap between Door Knob and door frame. This can be exceptionally painful and inconvenient! At More Handles we recommend that wherever possible when using Door Knobs, you should use a latch that is at least 102mm. (4") This will give a backset of 82mm, and will allow sufficient room for the Door Knob to be properly operated, it also looks far better aesthetically, too.
This brings us to our next point, which is, at what height should a tubular latch be positioned on the door? Many joiners are taught that one metre from the floor is the correct height at which to position a latch and door handle. Whilst this is correct for Lever Handles, it is not necessarily the case for Door Knobs. When using panelled doors, the Door Knob should always be positioned on the Mid Rail, (also called the Lock Rail) regardless of what height the Mid Rail is from the floor. The reason for this is both aesthetic and practical – If the Door Knob is set on the door stile one metre from the floor, then you can only use a 64mm or 76mm latch, which as discussed, is not advisable. If the Door Knob is set on the Mid Rail, then a much longer latch, up to 152mm (6") can be used. Using a longer latch in this way works much better as it gives more than ample space to operate the Door Knob, and also looks proportionally far superior on any door.
The above covers pretty much everything you need to know about choosing a tubular latch. All of our Tubular Latches are supplied as standard with a matching fore end, strike plate, and fixing screws, so you don't have to worry about purchasing any of these items separately.
Now, we have covered the Tubular Latch in detail, we will take a brief look at the other latch types you may encounter whilst renovating your home, working on interior design, or working on a building or joinery project.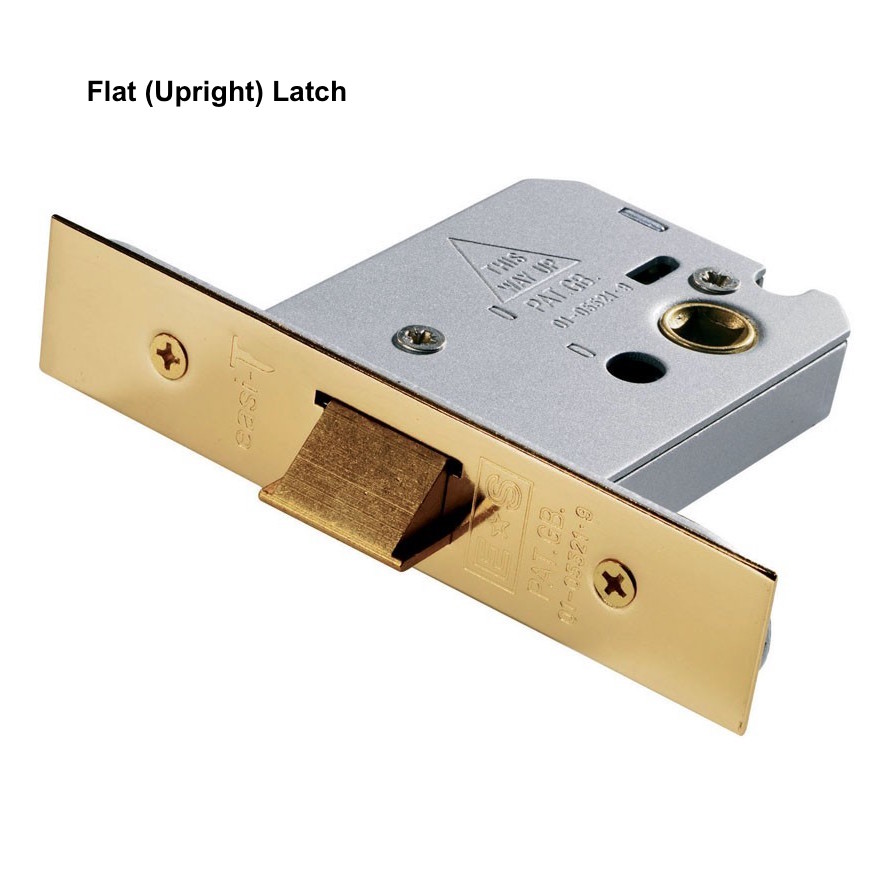 The Flat (or upright) Latch is a Latch that is housed in a square or rectangular casing, rather than a tube. These latches were used more commonly in the 1970's and 80's, when the Tubular Latch was not the standard and preferred door latch. Due to the casing, the process of fitting a Flat latch requires more joinery work, rather than a single bore hole. It is for this reason that the Flat Latch has largely fallen out of favour with joiners and builders. One current use for Flat Latches is, some doorset (¶) manufacturers will use a single lock jig across their doors, for both locks and latches, for speed and non-complication purposes. For this reason it benefits them to have locks and latches that have the same sized case.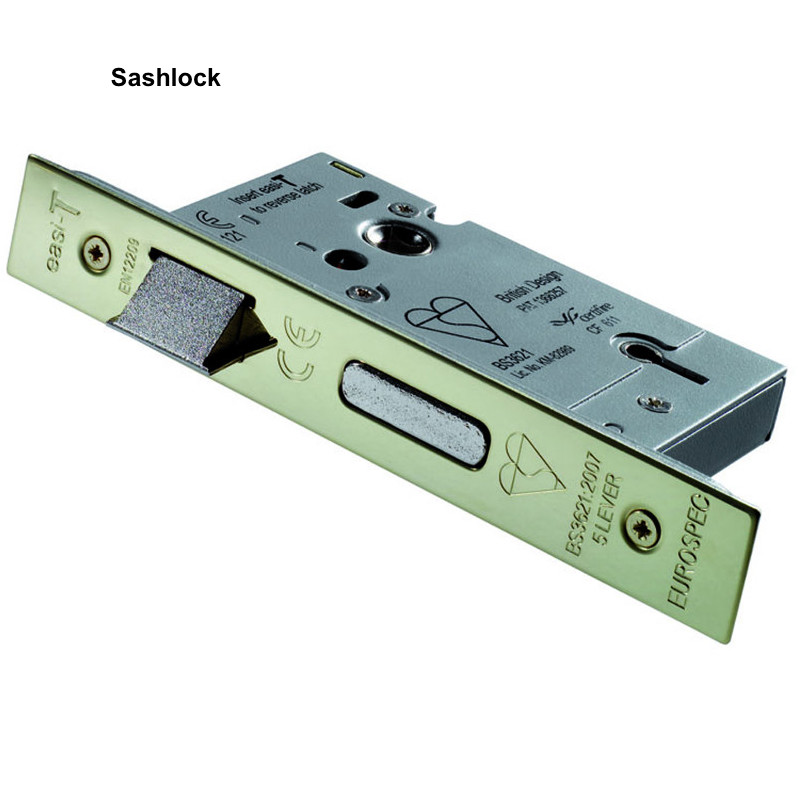 The Sashlock is a combination of both Lock and Latch contained within the same casing, which is usually rectangular. The Sashlock is a very common item in Architectural ironmongery due to its versatility. You will find different grades of quality, and different lock and key profiles to suit almost all applications. Some of our Sashlocks are suitable for internal use only, and some are rated for use in external security applications, such as on a front door. Some Sashlocks come with a cutout for a Euro Cylinder. Finally, the Bathroom Lock uses the same basic assembly and layout as the Sashlock except with a follower for a thumbturn & release, rather than a keyhole cutout.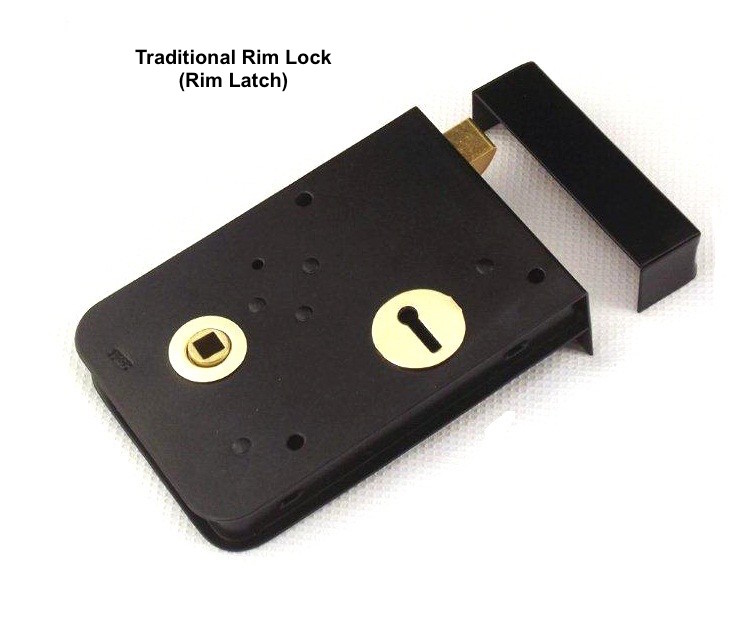 The Rim Latch, or Rim Lock, is a very traditional piece of ironmongery, which has been used on doors for hundreds of years. It is fixed to the face of a door, rather than Morticed inside it, and as such is much more simple to fit. Rim Latches are often seen in old Georgian and Victorian houses, and are used often in restoration projects.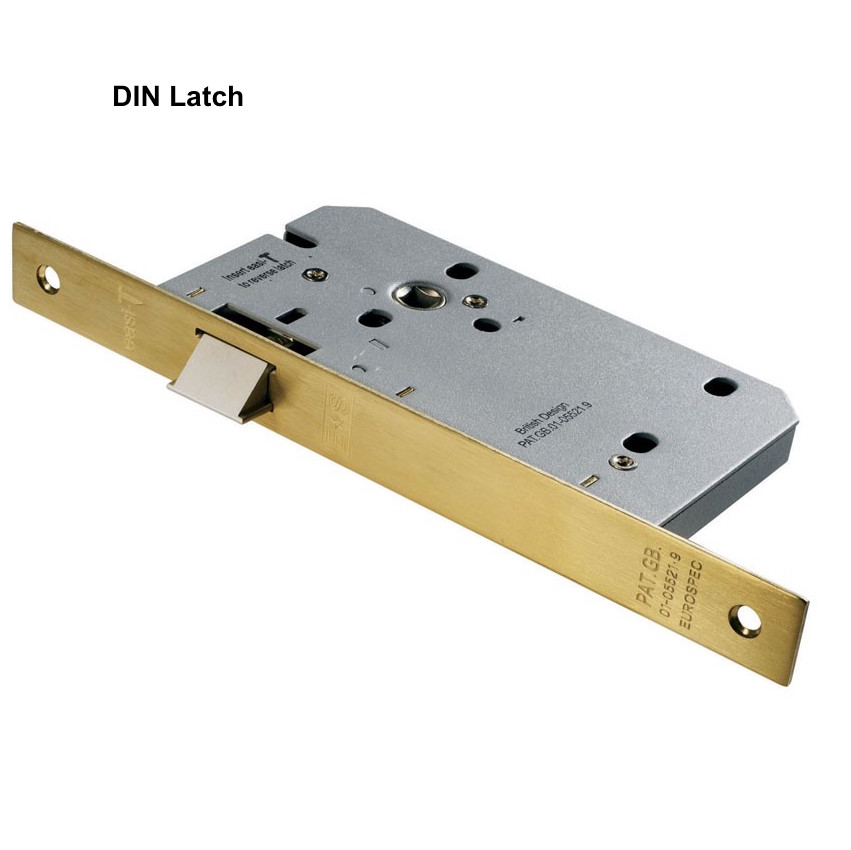 The DIN Latch uses a very long casing, to allow for much greater distance between the follower and keyhole cutout, or bathroom turn follower. DIN is the German institute for standardization, and this has been rolled out as the European standard. As such, you will find DIN locks on many doors across Europe. The DIN standard is used by many doorset manufacturers, so it is advantageous to them to use a the standard DIN sized casing even on doors which require only a latch.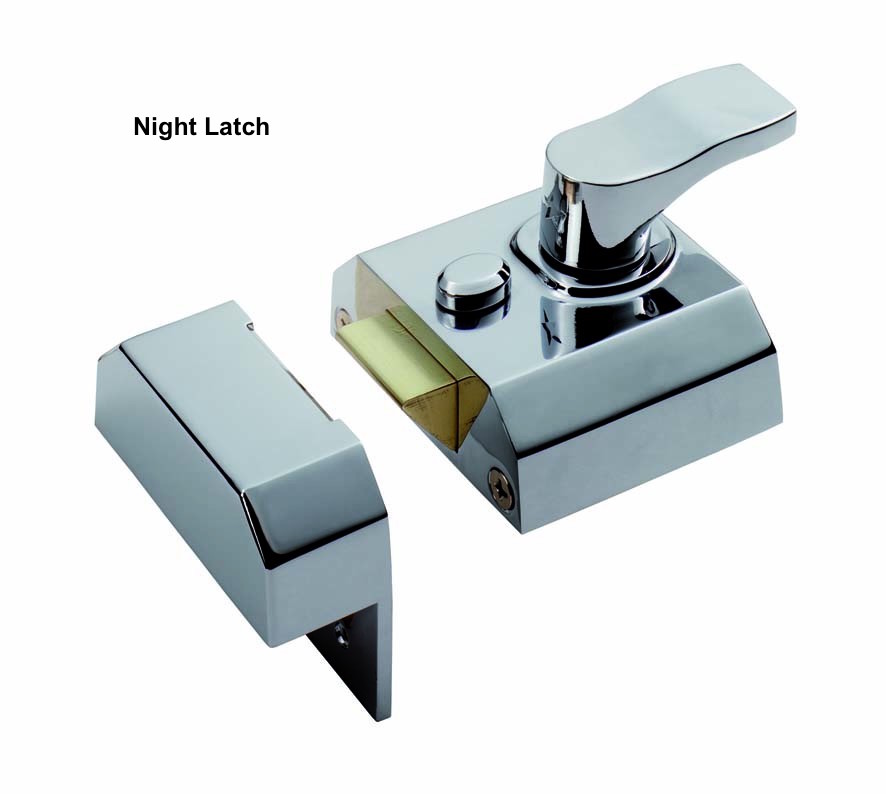 Finally the Night Latch is an item that has been used primarily on British front doors for the last 100 years. The Night Latch uses a rim-mounted case and a Rim Cylinder, which when the door closes, locks the door automatically. The Night Latch can be left 'on the latch', usually by pulling a lever, and this will leave the door unlocked even if closed. The Night Latch is loved and hated in equal measure, chiefly because of its automatic locking feature. This can be convenient as it means no locking process when leaving the house is necessary, but can also lead to people being locked out of their homes very easily, sometimes by as little as a gust of wind. It should be noted that a Night Latch alone is never enough in the security department. The Night Latch should always be used in conjunction with a secondary Kitemarked (☞) British Standard Security Deadlock.
This article has outlined almost everything you need to know about the different types, sizes, and quality levels of latch you will encounter during your project. If you need further assistance however, or to discuss particular lock or latch requirements, please do not hesitate to contact one of our latch and lock specialists here at More Handles.
TEL - 01228 516 516
WEB - morehandles.co.uk
EMAIL - sales@morehandles.co.uk
Annotations:
* Mortice: a hole or recess cut into a door, usually to accommodate a latch or lock.
** Follower: A reinforced metal disc with a square hole punched through, to accept a spindle. Seen on Locks and Latches.
† Bolt Through Fixings: A Male/Female bolt and cap assembly, which typically allows through-door fixing for extra strength and sturdy fixing. Commonly used on Lever-on-Rose handles and some door knobs.
§ Unsprung: A Door Handle or Door Knob that does not have a built-in spring to return it. Ordinarily seen on lever-on-rose handles with a low profile rose, and Door Knobs with rose detailing which cannot accommodate the large recess required for a spring.
(‡) Backset: Referring to Locks and Latches, the distance from the edge of the door, to the centre of the spindle follower.
(‖) Door Stile: The vertical rails on a paneled door.
(¶) Doorset: A pre-fabricated door and accessories, often including the door frame, hinges, and lock or latch.
(☞) Kitemark:The UK product and service quality certification mark. Owned and operated by The British Standards Institution (BSI) Used frequently where a high security or safety standard is necessary. Often a requirement for items featured in insurance documents.