Davenport Rim Lock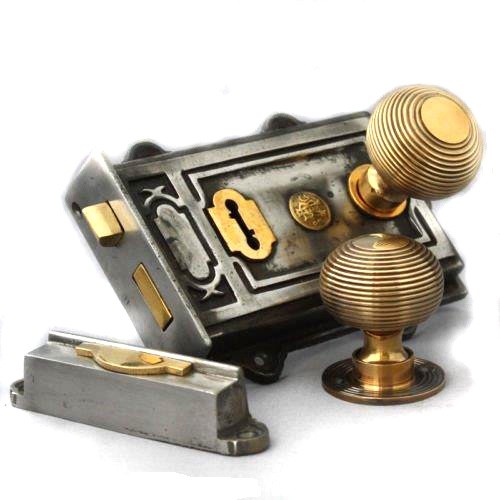 The Davenport Rim Lock is created using either Solid Brass, Polished Nickel, Cast Iron and now also in a Powder Coat Black finish, all in conjunction with meticulously reproduced solid brass components. These locks have a beautifully heavy quality, solid feel to them, and are ideal for period themes and restoration projects.
The Davenport Rim Lock draws on original patterns and dies to make an authentic reproduction of a very old lock design. Found in locations varying from Cottages to Stately homes, this product is very versatile and looks stunning. The Rim Lock is made and supplied by a traditional English locksmith. This lock is at its best when used on traditional four or six panel doors, as these allow room on their mid rail to comfortably fit and show off the lock.
The lock body and brass detailing have been hand-aged using a natural oxidizing process. This means that each lock is unique in its texture and appearance, and will continue to acquire its own unique patina over the years. The design of the Davenport features classic Victorian intricacy and attention to detail, with an attractive design cast into the lock body and keep. This is offset by the solid brass detail around the keyhole, rose, and a detailed maker's mark embossed in the centre of the lock body. It instantly has a look of having been there for generations.
The Davenport Rim Lock is subtly dual-handed, meaning the lock can be used either way up – Eliminating the need for left or right handed variations. The lock is supplied with two suitably ornate and traditionally large solid brass keys, each with a fluted ringed design and their own numbered or initialled stamps. The Davenport rim lock can be used in combination with a variety of different styles of door knob.
You can view a 360 Video View of the Davenport Rim Lock on You Tube here.
See the Bloxwich, Beehive, and Victorian Cottage Knobs for door knobs we suggest and recommend to best match the Davenport.
Dimensions of the Davenport Rim Lock: Lock; 122 x 168 x 29mm Keep; 122 x 22 x 29mm