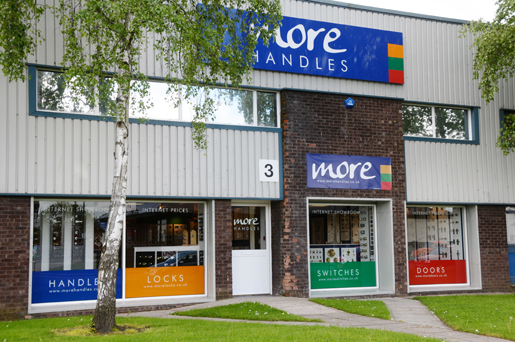 More Handles has been supplying handles for the past 20 years and is one of the largest door handle showrooms in the UK. They cater for any sized project from small home projects to commercial projects on a huge scale and have a fantastic selection of handles on display.
All these handles come in a variety of designs, styles, shapes and sizes. They come in a massive array of finishes. From traditional to contemporary, designer to period; you'll find something to suit your tastes and interior decor. All their door hardware is sourced from high quality manufacturers like Carlisle Brass, Samuel Heath, Turnstyle Design, Eurolite, From The Anvil, FTD, Eurospec, De'Leau, Ludlow Foundries, Delamain, Steelworx, Frelan Hardware, and many more who produce handles using the latest methods to offer excellent durability and functionality.
More Handles have a refreshing attitude that makes them constantly strive to bring you new and exciting products along with some fantastic deals and offers. All their handles are competitively priced to suit all pockets. Their handles are designed and crafted using high grade materials and there's no way that you can go wrong with their selection of door handles. They are extremely particular about customer satisfaction - so you can be sure you're getting a top-of-the range product from them.

You can be absolutely sure that you are getting exactly what you need when you buy door handles from them. Their handles are made from a range of materials including brass, bronze, steel, black antique iron, pewter and more!
Brass handles come in charming designs and can add a gorgeous gleam to any of your doors. Brass handles come in variety of finishes, never lose their lustre or appeal and make the best option when you're looking for something unusual.
Their pewter door handles come in dynamic and eye catching designs and have a warm feel with excellent ergonomics. Pewter can be used for all types of interior. It suits both modern interior designs as well as rustic properties and is sure to attract the attention of anyone that looks at it.
Their black antique door handle range consists of real authentic pieces of ironmongery. They come in various finishes and styles to suit a diverse range of interiors.
Stainless steel handles offer an elegant appearance and are highly comfortable to use.
To get your hands on some high quality design door handles contact More Handles now at More Handles Ltd. Unit 3 Grearshill Road Kingstown Ind Est Carlisle CA3 0E Tel: 01228 516 516 Fax: 01228 401 847 E: sales@morehandles.co.uk