Ah, the property development programme. There's nothing quite like looking at someone else's far nicer home set to some airy music as a camera slowly pans around a room swathed in white. Grand Designs, Changing Rooms and Property Ladder have all spawned major house envy. You find yourself sitting in your own Ikea clad living room wondering where all of your creative ideas went. You wanted it to represent New England Chic, what you got was Washed Out Brighton Beach. You thought you could do it all with a lick of paint and MDF, as Changing Rooms led us to believe. But you can't, you just can't.
So deep is the impact of these shows on our collective psyche that our interior design decisions now have a monologue. This monologue will be in Kevin McCloud's voice and he will think you've ruined the whole aesthetic of your eco-friendly hobbit inspired home. The radiator doesn't ring true to your original vision and you've let everyone down. Especially Kevin.
To celebrate this absurd impact on our lives we thought we'd give you our favourites. So here they are, in no particular order.
Property ladder
Property Ladder was headed by the determined Sarah Beeny. She went into people's homes, advising them on the best action to take in order to sell and move up the property ladder. Often, these people had little to no knowledge on how to turn a house into a presentable looking building and ignored every piece of advice given. For some reason all of this made the show extremely watchable. We certainly tuned in, the show aired from 2001 and is currently on season seven.
Part of its success came from Beeny's personality. She was pragmatic and often gave advice that you found yourself nodding along to thinking; 'Well that is the only way to do it. Why would anyone disagree with this vision in a biker jacket?' To which Jon or Debbie in Kettering swiftly proceeded to do, which then caused you to throw a shoe or a small pet at the television screen. Why would you paint a small box room deep purple? It's not what Beeny told you to do. Maybe this is why we were so hooked. We loved it and still find ourselves watching old episodes trying to determine which part of the 2000's we're in by Beeny's haircut.
Location, Location, Location
The early 2000s saw a rise in property development programmes because everyone was still enjoying the property boom. The ones that have lasted are, ultimately, the ones that have engaging presenters. Enter Phil Spencer and Kirstie Allsopp. The sexual chemistry seen on screen between these two may be the reason why this show has been going strong since 2000. They take people around the country trying to find their dream house in the right location, all the while flirting and rolling their eyes like a pair of happy spaniels.
Often the people on Location, Location, Location will have totally unrealistic expectations about what they're going to get for £100,000. 'What do you mean I can't get a five bedroomed house next to Tower Bridge? In Wales I can,' the participants would often sob. To which Phil would reply in his balmy, soothing voice 'Well this is what you can afford, and yes it does come with bars on the windows.' Cue a scene change, a over voice quip from Kirstie and you've got 13 years of successful television. Like many shows on this list Location, Location, Location made us lust after properties in areas of the country we hadn't even heard of. Dursley? That sounds nice, let's up sticks and move. Kirstie said it was a good idea.
MTV Cribs
MTV Cribs is less of a property development programme and more of an international boast fest. This is a show entirely built on the principle that someone else's home is interesting and it's even more interesting if that person is famous for something. We've included it on the list because it has changed the way we look at properties. Why don't we have a camera crew following us around our mad L.A. pad where Mariah Carey stayed one time?
One of the most frequent feelings associated with MTV Cribs isn't jealousy or lust but confusion. Why would anyone need five swimming pools AND a bathtub with a fridge built into it? After watching the show a few times you find yourself comparing the homes or 'Cribs' as they are referred to in the title. You only have one pool? You're practically a pauper. How on earth can you be famous if you don't have the money for a helipad and five supercars? MTV Cribs, we salute you. You made us all feel deflated in our own homes and wonder what every celebrity home looks like. Especially if they weren't on the show.
Changing Rooms
Changing Rooms was a show built around friends or neighbours decorating rooms in each other's houses. It made long standing stars of its designers, some of whom still enjoy success today. What made this show great wasn't the 'beautiful' designs that the designers came up with - it was the ones they got wrong. A disaster is a strangely compelling beast and watching someone's front room being turned into an animal themed den is good television.
Plus they gave rise to the much neglected handyman's material MDF. Even now you'll look at your radiator thinking; 'A cover for that would make this whole room look more Moroccan. Why isn't Handy Andy here?' Its stayed with us and made us look at rooms in an entirely different light. Everything is better themed, as many a Laurence Llewelyn Bowen design proved. Green fur cushions anyone?
Grand Designs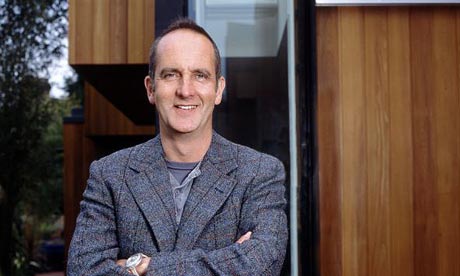 If there was a Grandfather to property development programmes then it would be Grand Designs. Kevin McCloud is like that over opinionated uncle you've asked around to help fix a tap, but then he stays and points out everywhere you've gone wrong. It's great and compelling television.
Grand Designs works on the premise that people will take on too much and they will want to film it. Not only will they do this but they'll also have a meltdown over glass panes being dropped and taps arriving in the wrong colour. For some reason this has proved hugely successful and we've watched almost every episode. The show has been going since 1999, has aired over 141 episodes and is currently on series 12. They must be doing something right – cue the soaring opening music.