More Handles is Pleased to Announce the Official Launch of Their New Website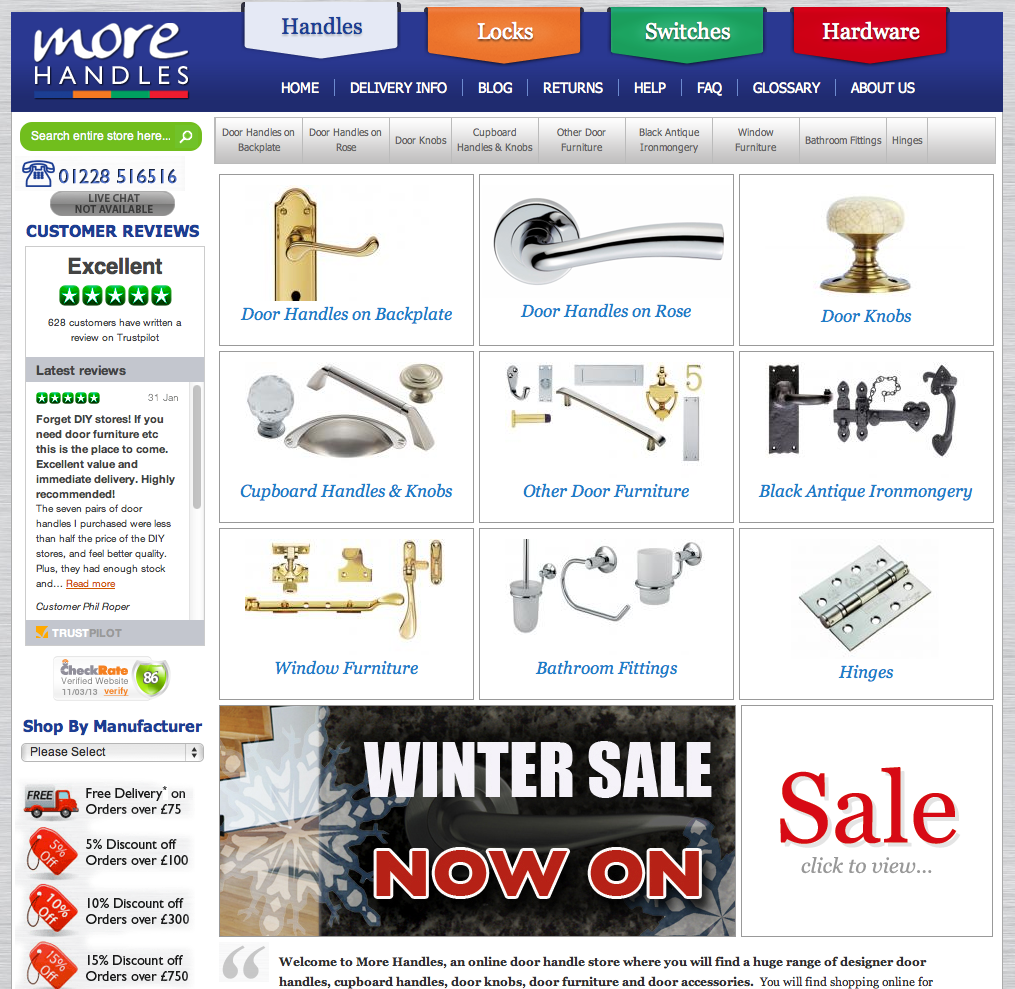 More Handles, one of the UK's largest and most successful internet retailers of door hardware and architectural ironmongery, has recently launched the latest version of their class leading internet e-commerce website. As always, the company lives up to it's name of More Handles by providing one of the biggest choices of quality, designer door and window furniture available.

The experienced team at More Handles have built on the success of their previous websites and introduced a range of new features and benefits to further improve the shopping experience for both their retail and trade customers.

Stephanie Hunt, Marketing Director said; "It has taken a lot of effort and attention to detail, but we are really pleased with the results, and we know already that our customers love the new look and feel of the website.

The More Handles website was always known for it's clear, simple and attractive design, and the ease of navigating around the site. We wanted to make sure that we kept that look and feel to the new site, but added some improvements as well. Keeping the identity and familiar look to the site was important, but also helping our customers enjoy shopping online and making it even easier to find the information and products they wanted.

The door handle sector of the internet market is flooded with lots of poorly designed websites, often run by amateurs who operate from their back bedroom at home. One of the key things for us was to be able to reassure customers who are shopping online that More Handles is the best place for choice, value and service when it comes to ironmongery and all things door handles." So - What is new?

Everything!
This has been a completely new website right from the start;

Images - The new images are clearer and larger, so people can really see the door handles they are shopping for and enlarge the detail to get a really good impression of the design and quality.

Shopping Cart - The ordering system and shopping cart is also new with improved check-out time and ease of use.
Search Box
- Intelligent search features to help customers quickly locate products.
Live Chat
- Immediate real time access to one of our friendly 'door handle nerds' to answer any questions straight away and online. Of course if you would still rather talk to us we are all just a phone call away!
Or, of course you can always come and visit us and see our beautiful showroom with literally thousands of door handles on display.
Easy Navigation
- Big, bright, easy button navigation makes it simple and straight-forward to navigate around the whole website, including the different pages taking you to More Locks, More Switches and More Doors. All the products are seamlessly integrated into one checkout, meaning that discounts build and apply across everything you buy.
TrustPilot - Live and up to date feedback from our customers who have bought from us, displayed to reassure new customers that we like what we do and we do it well.

Product Finishes - A really helpful new feature that allows customers to see at first glance which finishes are available for the product they are considering. This is a great time saving as the customer does not have to visit every product page to see if the correct finish is available.
Filter Results
- Another great new feature is the results filter on the left-hand side of the page that allows customers to filter the number of results they see based on the Price, Manufacturer, Finish and Size of the products they are looking for.
This is another class-leading development from More Handles that again speeds up and simplifies the shopping experience.
Trade Pricing
- Our regular Trade Customers are able to log into their account and see their specific trade-only prices based on their own discount structure agreed with one of the More Handles Sales Managers.
Order History
- The website keeps an up to date record of a customer's order history, including any email communications regarding backorders, despatch details and confirmations.
Discounts
- The More Handles website continues to offer class-beating discounts to our customers. We offer upto 15% off the already low internet prices for customers who are involved in larger projects, and these discounts are calculated at checkout and based on the whole combined order across all the different sections of the website including Switches and Doors!
Price Match Promise
- As if that wasn't enough, we are always happy to
'place our money where our mouth is'
! If you can find the same branded product cheaper elsewhere then we will match the price - even if it comes from a lesser website!
So come and see what all the fuss is about and see what we mean by More Value, More Choice and More Service...