October is the official National Home Security Month and is a good time of year to issue some reminders about your home security and prepare for the long dark winter months.
This Sunday 26th October 2014 we will all be changing our clocks back as Daylight Saving Time ends. Police Statistics show the same thing every year that as the clocks go back the criminals come out, and a 20% increase in home burglaries is reported during the darker winter months.
So here at More Handles HQ we thought we would issue some reminders about the importance of checking your home security. With just a little bit of effort you can greatly increase the level of security on your home and help deter any burglars.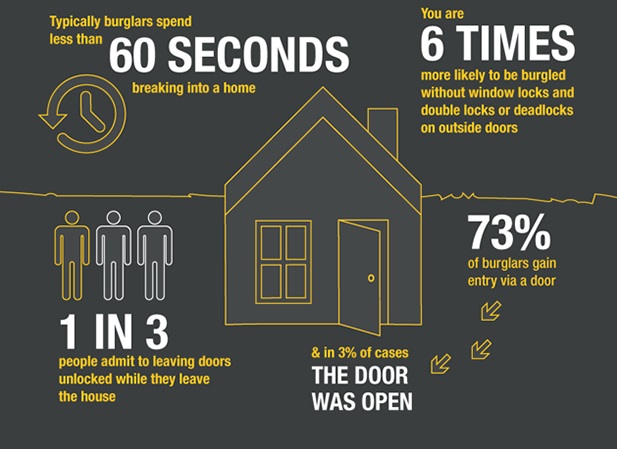 In general burglars gain access to a home in less than a minute! Of course it's their job to get in quick without raising any suspicions, your job as a homeowner is to make it difficult for them so they can't get in quickly. Most burglars are opportunist thieves and if they can't get access easily they will try elsewhere!
Over 70% of burglars gain access to a home through the door, and you are 6 times more likely to be burgled if you have no window locks or no deadlocks on external doors. Unfortunately in 3% of the cases the door was just left open, but that happens more often than you think, in fact 1 in 3 of us admits to leaving the doors unlocked when we leave the house.
So first tip then - Lock the Door! It makes a huge difference to a burglar what type of lock you have in the door so make sure all your external doors have a good quality British Standard 5 Lever Lock. These are specially designed to meet Home Insurance requirements and have a strong steel body and strikeplate along with a reinforced longer throw bolt. They are not expensive and can be installed very easily.
If you have a multi-point lock system then the Euro Lock Cylinder may very well need to be replaced. Cylinders should be a minimum of 6 Pin and modern cylinders benefit from anti pick and anti bump features which make it much more difficult for burglars to gain entry. If your current Cylinder does not have these features then they are very susceptible to easy access by the professional burglar.
More Handles also has a useful Blog in the archives of our Top 10 Tips for Securing Your Home.
More Handles has a huge range of locks for doors and windows to help you protect your property. So as the evenings get darker make a few simple checks and ensure that your property is not a an easy target for the opportunist thief. Please give one of our Lock Security Specialists a call for a free chat and appraisal of your existing locks.
Remember;
Change Your Clocks - Check Your Locks