The Glorious Revival of the Gilnockie Tower

A bird's eye view of Gilnockie Tower: https://youtu.be/1nKz2QWGc9o
The repair work took approx 22 months, More Handles products used in the restoration. (see images below)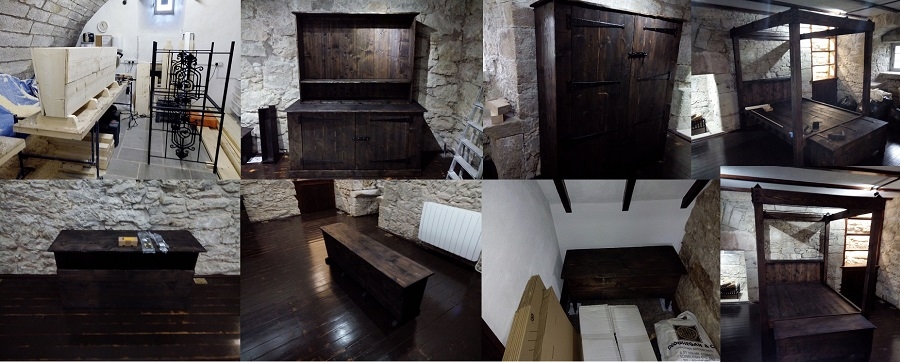 Gilnockie Tower, a 16th century Scots Tower House experience to the north of Canonbie and is open to the public.

Almost 100% of the ironmongery has been bought through More Handles and is now fitted onto their genuine 16th century furniture.
Gilnockie Tower, a Clan Armstrong stronghold. Home to a Borderland legend.
Gilnockie is one of the finest examples of a 16th century Pele tower. Towering over the River Esk, this stone fortress was the power-base of a mighty chieftain.
Gilnockie stands in what were known as the Debateable Lands; so-called because no-one knew who they belonged to. Was it England, or was it Scotland?
To find out more about Gilnockie Tower and its rich history, why not come and visit? http://gilnockietower.com
Nearby Sites of Interest:
Lime Kiln and Limestone Quarry
Another must see historical gem, hidden away behind Gilnockie Tower. An old limestone quarry lies immediately to the North of Gilnockie Tower, in a field which has been cultivated as grazing land.
The lime quarry and attendant production unit is an interesting early development relating to the production of lime and this kiln is known as a 'flare kiln.'
The lime works was in operation by the end of the 18th century, and continued in use throughout the following century, but, by 1900, it had fallen out of use.
Viaduct
South Riddings Viaduct, or Tarrasfoot Viaduct was built around 1862 is approximately 500' long, curved 9-span skew railway viaduct over Liddel Water as well as the Anglo Scottish Border and was closed to rail traffic during 1967. So the north side of the viaduct is in Scotland and the south side of the viaduct is in England.
The Riddings Viaduct was an integral part of the Langholm Branch line of the Border Union Railway. The viaduct is a listed building in both Scotland and England.
Canonbie Station was open from 1862 until 1964. Traces of the station and the Border Union Railway (later North British) can still be seen at Rowanburn. The line was a part of the seven mile Langholm branch railway line linking in with the Waverley line that joined Edinburgh and Carlisle. The line was closed to passengers during 1964 and freight during 1967.