Caring for Your Culinary Concepts Items

How to Care for Stainless Steel
Keep your stainless steel cutlery and home accessories in prime condition. It is important to remember that although stainless steel is a highly durable and stain-resistant material, cutlery may suffer from rusting, pitting and staining if it is not cared for properly.
Unpolished stainless steel designs require extra care.
Rinse cutlery as soon as possible after use to remove food particles. Wipe dry with a soft, clean cloth. In some areas hard water may leave calcium spots, or certain foods and constant use of dishwasher may cause tarnishing. These stains may be removed using lemon juice, vinegar or a stainless steel cleaner.
How to Hand Wash Stainless Steel
Use warm, soapy water with a cream or liquid detergent that is completely dissolved in the water, rinse immediately in clear hot water and wipe dry with a soft, clean cloth or tea towel.
Store immediately. Do not soak your cutlery or leave unwashed overnight, this may cause staining and corrosion.
Only choose a stainless steel cleaner for stubborn stains.
Don't use wire wool or abrasive cleaners, this can cause scratching and will eventually remove the cutlery's shine.
Common salt, vinegar, and acids present in some foods, bleaches & some harsh detergents can all seriously damage the cutlery if left without rinsing after use. Even mineral salts in tap water can cause pitting and staining.
How to Dishwash Stainless Steel
Follow your dishwasher manufacturer's instructions and remove your cutlery immediately after the end of the drying cycle and polish with a soft cloth or tea towel.
Wash cutlery as soon as possible after use and remove when the dishwasher has completed its cycle.
Scratching can occur on knife blades if regularly dish-washed. This is a direct result of the mechanical action of the dishwasher and salt concentrate remaining on the flat surface area of the blade. To prevent this, handwash the knife blades. Surface discolouration in the form of a rainbow can also occur. This is due to detergent drying on the cutlery and is a fault within the dishwasher's rinsing cycle.
To avoid contamination of metals, don't mix stainless steel and silver plated items in the same wash.
To avoid stains and damages don't leave cutlery damp, don't use a rinse and hold cycle, or leave cutlery within the dishwasher for any period prior to washing.
It is important to remember that although stainless steel is a highly durable and stain-resistant material, cutlery may suffer from rusting, pitting and staining if it is not cared for properly.
How to Clean Unpolished Cutlery
Handwash the cutlery before use in warm soapy water to remove excess black oxide, which may remain. The oxide can be present for up to 10 washes, the black "iron looking" finish will soon become permanent. Continuous scrubbing will eventually remove the oxidised finish, therefore the cutlery need only be washed a few times to remove the black residue. If hand washing or using a dishwasher, season the cutlery occasionally by rubbing vegetable oil into the black handles to remove oxidisation which may occur especially from deposits of dishwater salt. Always towel dry thoroughly before storing, as this will remove excess water which may remain from the dishwasher and which may cause oxidisation to occur.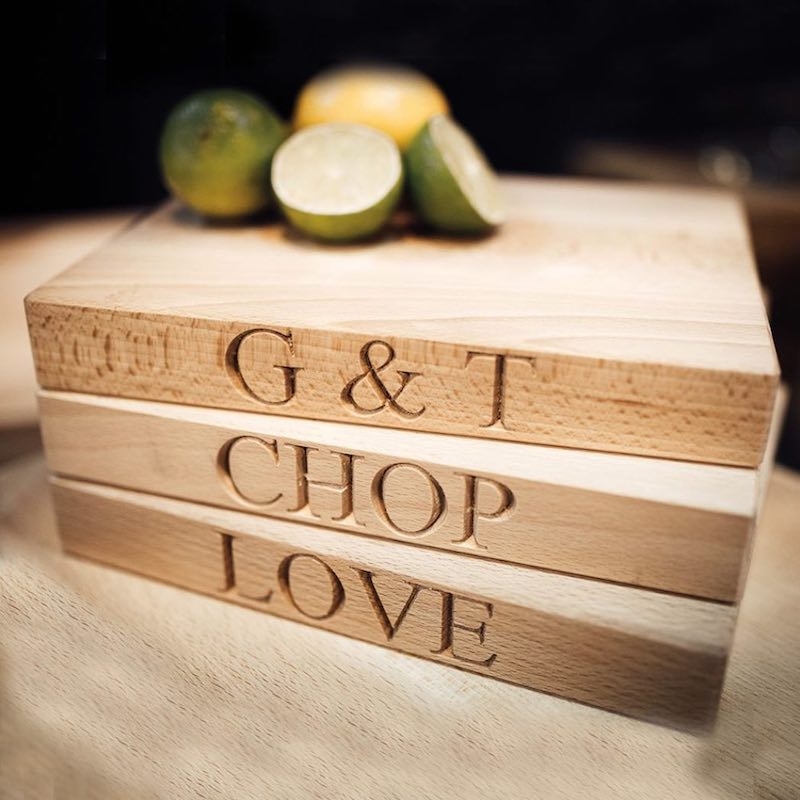 Wash with warm soapy water.
Ensure the board is rinsed and dried thoroughly.
Do not wash in a dishwasher.
Do not dry in hot sunshine, close to your oven/AGA or any other heat source.
Never submerge the chopping board in water. Wood is porous and will soak up any moisture causing the board to crack when it dries.
Do not leave any edible products on the board for an extended period of time as the moisture will seep into the wood and stains will develop.
Every few months or so we recommend oiling your board with a mineral or vegetable oil. Doing this will provide protection, revitalise the wood's natural colour and character, and prolong the life of your chopping board. Simply apply a generous amount of oil with a clean cloth or some kitchen paper and leave the oil to penetrate the wood for an hour or so, then wipe away any excess.
To eliminate garlic, onion or any other odours from your board - rub with coarse salt, baking soda, lemon or vinegar and leave for a few minutes before rinsing and drying thoroughly.
How to Clean Silver Plated Items
Wash Silver-plated items independently from stainless steel, if they touch when wet the silver may become damaged by a chemical reaction.
Use silver dip or a silver polish, carefully following the manufacturers instructions to clean tarnished silver.
Never place silver-plated items in the dishwasher.
How to Clean Nickel Plated Items
Clean using warm, soapy water and a soft cloth.
Rinse thoroughly with clean water. The item should then be dried immediately with another dry, soft cloth.
If the items require further cleaning a soft cloth and metal cleaner such as Maas Metal Polishing Creme or a Cape Cod Metal Polishing Cloth can be used.
How to Clean Aluminium Items
These are not food safe and will stain if left in direct contact with food for long periods of time especially acids and alkaline.
To clean wipe with a slightly damp cloth and dry immediately.
Ensure the lantern is cold and wipe with a damp, soft cloth.
Ensure nothing abrasive is used on the metal or glass surface of the lantern.
Dry thoroughly after cleaning.
Please ensure that you only use the recommended candle specified for the lantern in its product description and only one candle at a time.
When using outdoors we recommend that lanterns are stored inside after use and not left outside for long periods of time.
Disclaimer Warning - Single Candle Lanterns
Remove all packaging and follow instructions given with the lantern.
Always examine the lantern before use, and do not use if item is damaged in any way.
Place the candle inside the lantern in an upright position only.
Never leave a burning candle in a lantern unattended and extinguish all candles when leaving a room.
Use a candle extinguisher instead of blowing candles out.
Glass, top and handle may become hot when burning a candle.
Keep lanterns containing a burning candle out of the reach of children and pets.
Do not burn candles near flammable materials.
Protect the surface the lantern stands on as the base may become hot and do not stand on an uneven surface.
Do not carry a lantern by the handle or carry a lantern with a candle inside - lit or unlit.
Do not put anything else inside the lantern, other than a candle, when lit.
Do not let candles burn in a draught or close to a heat source.
Trim the wick down to a maximum of 1cm (1/3 – 1/2") before lighting.
Each time the candle is extinguished, remove charred pieces of wick, remains of matches, and other impurities like traces of lacquer, from the melted wax around the wick.
When you light a pillar candle, make sure it is allowed to burn out to the edge before extinguishing it for the first time. If it only burns for a short while, it will be spoilt by burning downwards and not outwards.
Always place candles on a level surface and always leave at least 5cm (2") between burning candles.
If you have any questions regarding the care of your Culinary Concepts product or would like to know more information please contact More Handles Sales Team on 01228 516 516
For the latest information on discounts, promotions and sales, please sign up to our newsletter below.