"And The Winner Is..."
More Handles are proud to announce that they have been awarded Best Architectural Ironmongery Retailer at
the 2017 SME News Awards.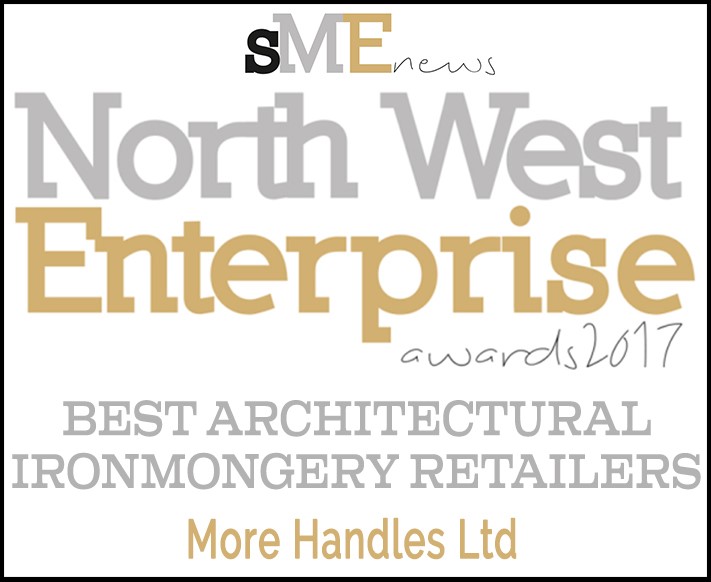 Paul Rheinbach, Managing Director of More Handles Ltd said; "We were very pleased to be selected as finalists in 3 different business awards this year. It is a fantastic recognition for the company and a reflection of the hard work and commitment that the whole More Handles Team applies to our business every day.
To receive the 2017 Best Architectural Ironmongery Retailers Award makes us feel really proud as we know there is a lot of competition out there from some very big players in the industry. More Handles continues to focus on providing the very best customer service along with the very best choice of ironmongery online, and it is a pleasure to see this recognised with this award."
More Handles were also nominated as Finalists for two further awards at the 2017 In-Cumbria Business Awards, and were the only company to be nominated in two categories on the night; Best SME Business and Best Community Involvement.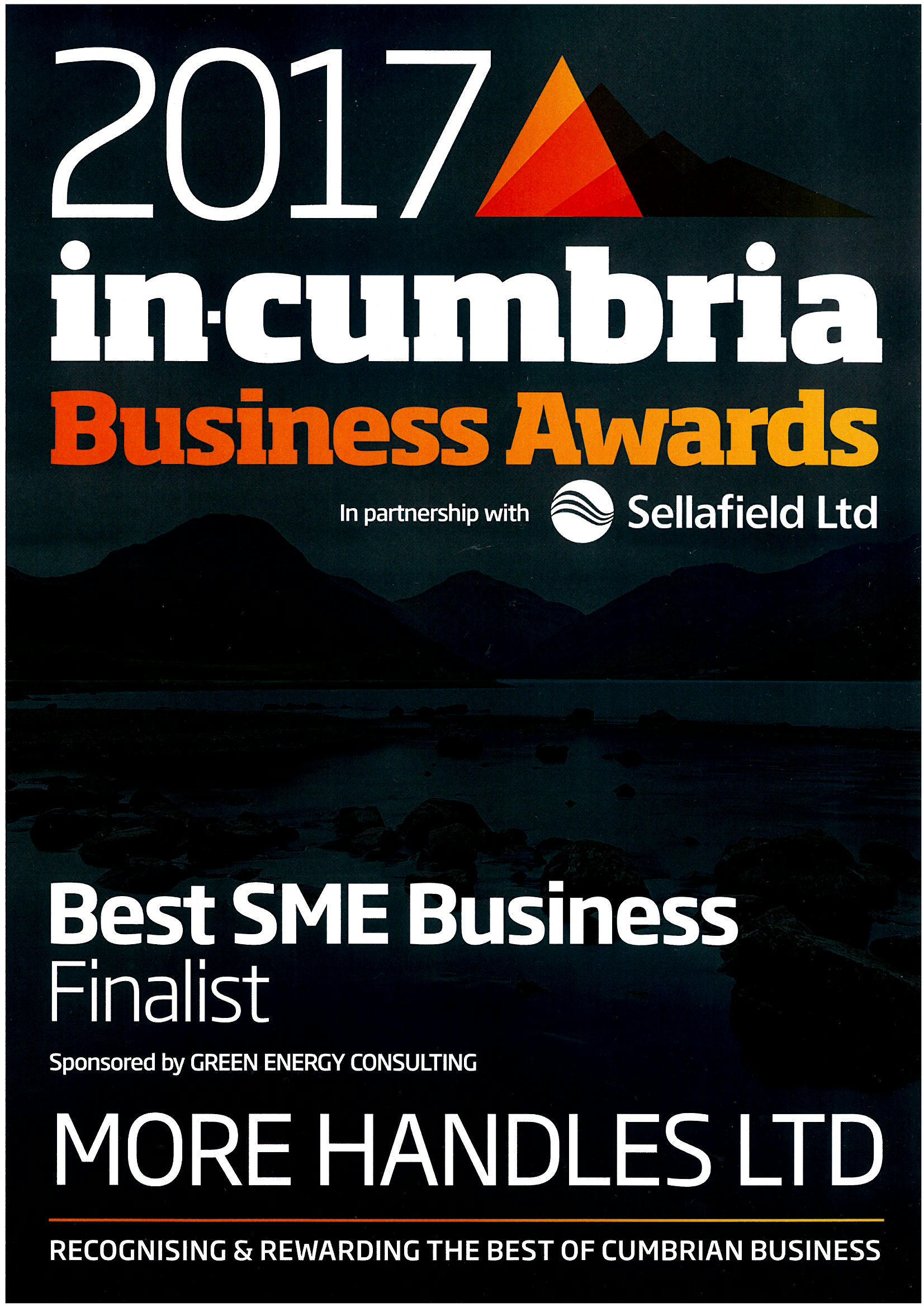 Paul added; "To be selected as a finalist for the 2017 In-Cumbria Best SME Business category makes me very proud of our whole team here at More Handles, as we know we are competing with some very talented and successful businesses that represent the very best of the best in Cumbria across a diverse range of businesses."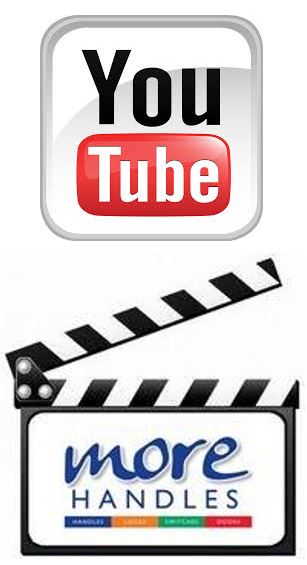 More Handles were represented at the Awards ceremony at The Halston by Rachael Rheinbach, Customer Service Manager and Sabina Hine, Marketing Manager who enjoyed celebrating the success of More Handles in front of more than 240 business leaders at the event which was hosted by Amol Rajan, BBC's Media Editor.
Rachael Rheinbach commented; "The In-Cumbria Best Community Involvement Award really sums up the ethos that More Handles tries to adopt. We are a family run business that enjoys sharing it's success with our colleagues, customers and our community. We are very honoured to have been selected as finalists for this and the Best SME Business and wish congratulations to all the winners".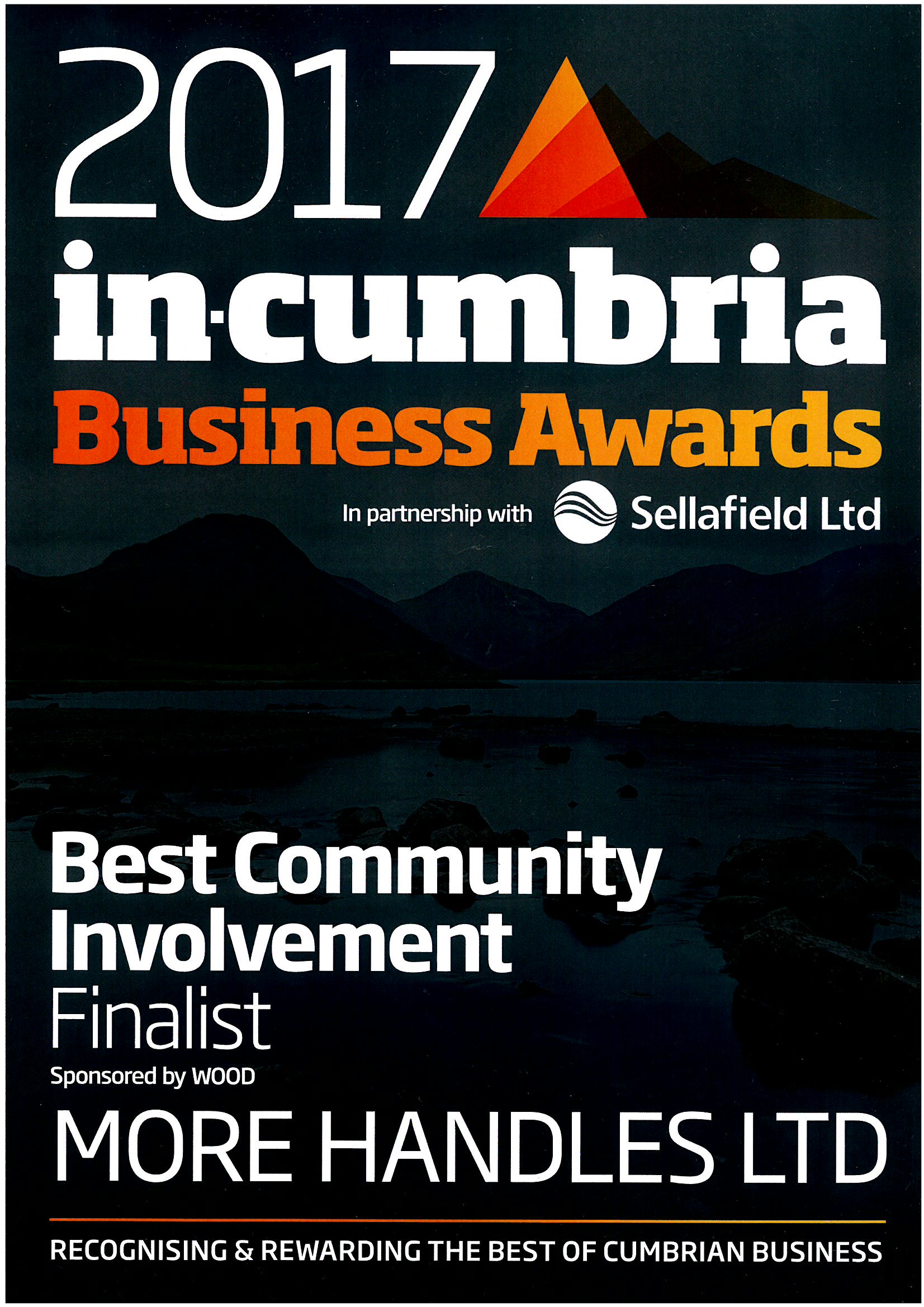 Paul Rheinbach added; "More Handles has been celebrating it's 10th year in business in 2017, and these awards are the icing on the cake for us in this year that prove the continuing success of the More Handles brand. We have many plans in place to continue our growth as the UK's leading Online Ironmonger, and we continue to translate our website business success into our local trade counters making us the best choice as Carlisle's Ironmongers and the Lake District's Ironmongers".
Visit us online to see what makes More Handles the Best Architectrual Ironmongery Retailer 2017 at www.morehandles.co.uk
Or call and see us at our Carlisle and Kendal showrooms - www.morehandles.co.uk/about-us
---
MORE HANDLES IS CONSISTENTLY AWARDED 5 STAR CUSTOMER SERVICE BY INDEPENDENT REVIEW SITE TRUSTPILOT.
Here at More Handles we know that our customers expect the very best service. That includes an easy to navigate website, an unbeatable range of products, and excellent prices, however 5 Star Customer Service is so much more.
More Handles is rightly proud of the back up and after sales support we provide. Our team of GAI (Guild of Archtectural Ironmongers) trained staff are always keen to help and assist with any queries, problems or dificulties. We ensure that we resolve any issues our customers might experience with the delivery, product issues, or questions with fitting instructions when using our vast range of products.
However with hundreds of orders being despatched every day, we recognise that sometimes, even with the most efficient systems and best intentions, occasionally something may go wrong with a delivery. In these instances how the situation is then dealt with proves whether a company really strives for 5 Star Customer Service.
More Handles operates with a Customer Service Team of seven staff who are dedicated to ensuring that customer orders are despatched on schedule, and keeping our customers up to date with progress on their deliveries. With the internet's largest choice of architectural ironmongery on offer, there can be an occasional issue, such as with products on backorder from manufacturers, or a problem with a delivery by our courier. Our team checks all this data every day and immediately updates any new customer orders with the latest information. For example, if an item is unexpectedly out of stock we immediately advise the customer and offer an alternative product, the choice to wait for the new delivery date, or a full and immediate refund.
WHAT DIFFERENCE DOES 5 STAR SERVICE MAKE TO OUR CUSTOMERS?
Take a look at some of our customer reviews and see what our customers are saying; More Handles uses Trustpilot as they provide an independent system of reviews from verified customers. This system of verified reviews gives confidence to new shoppers that the reviews seen are genuine and bona fide, and avoid the 'home made' reviews often seen on more dubious websites.
Our whole team take our customer reviews very seriously and everyone checks in daily to see how recent customers have reviewed their More Handles shopping experience. The Sales Team keep a healthy competition between themselves whenever a customer mentions one of them by name. Our Customer Service Manager looks at each review and is responsible for responding to customers, which we always ensure we do if the customer has reviewed our service as anything other than 4 or 5 Star. We are always striving to keep our Trustpilot rating at an 'Excellent 5 Star Level' and are always pleased to hear when we have done a good job, and even if there are areas that customers feel we could improve.
Just to illustrate the issues involved some of our well known competitors in the hardware industry don't quite manage to maintain the high level of service that customers today expect when shopping online:
Ok, so we don't normally like to brag, but there is some useful context here that helps customers to see that not all online traders are the same. More Handles are specialist internet retailers of high quality Architectural Hardware, backed up with industry leading customer service.
Do you like to buy online with confidence? Put our 5 Star Customer Service to the test and place your next order with More Handles - More Value. More Choice. More Service.