Terms & Conditions
August Offer - Show us your Knobs & Handles - £10 voucher code applies to your next order over the value of £50 - Simply email your completed project with your knobs & handles in situ to sabina@morehandles.co.uk in order to receive your £10 voucher code
Online Discounts
More Handles operates an automatic online discount structure to recognise and reward larger orders placed via our website. The current Online Discount Structure is;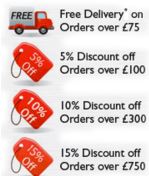 We offer this additional discount for customers placing orders online only.
We recognise that for some customers a telephone order will be much easier, and you are welcome to place an order over the phone as we are always pleased to help. However please note the online discounts are not available on telephone orders as standard terms.
By placing your order online our telephone advisors are free to be dealing with other customers and providing our 5 Star Service by promptly handling telephone calls, giving advice, answering technical queries and administering the picking, despatching and delivery of customer orders.
PLEASE NOTE THIS DISCOUNT STRUCTURE EXCLUDES ALL OSMO & TREND PRODUCTS, AND ALSO SOME SPECIFIC PRODUCTS WHICH WILL SAY ON THE RELEVANT PAGE THAT THE ITEM IS EXCLUDED FROM VOLUME DISCOUNTS.


Amending Orders
We are sorry that in most circumstances it is not possible to amend your order. Once an order has been picked it is added to hundreds of our other customer orders in the collection cages awaiting pick up by our couriers. Understandably, finding this order to then amend and re-pack is logistically very difficult.
To add products to your order - Simply place a new order for these items, or give us a call to place the new order over the phone.
To change or remove products - Please call us to cancel the original order and place a new order.
Cancelling Orders
Please advise us as early as possible if you need to cancel your order.
Unfortunately, if the order has already been despatched we will be unable to cancel the order and it will have to be dealt with as a Return Order.
Samples Policy
More Handles operates one of the best Samples Policies available. You are welcome to order as many sample handles as you wish. Your order will be processed in the normal manner and payment is required. However we will then refund in full the cost of any or all the handles when you return them to us. The only cost to you will be the carriage charge.
Price Match Policy
We operate an excellent Price Match Policy which means we will match or beat any like for like product that you have found elsewhere.
You will still benefit from our very fast despatch times and excellent customer service. Please give us a call or an email and let us know where you have seen the product cheaper and we will try and match or better the price for you straight away.
Price matching only applies to identical products from the same manufacturer. We reserve the right to refuse a price match for any reason. For more info see our price promise page.
Product Guarantees
All of our products carry the relevant manufacturers mechanical guarantee, this varies in length but is usually a minimum of 12 months.
We pride ourselves on the service we offer and as such you will never be referred to the manufacturer to exercise your guarantee, we will arrange and deal with any problems for you.
VIP Members Club
We operate a VIP Loyalty Card Membership. This is an exclusive discount ncard for our customers who have spent over £250 with us. This membership entitles them to a 10% Discount on any future orders, and they also receive information on latest offers and promotions, with special offers available only to VIP Members.
This discount scheme is not in conjunction with any other offer or promotion code and applies to online orders only. We reserve the right to withdraw the VIP scheme at any time. You may unsubscribe from the membership scheme at any time by emailing unsubscribe@morehandles.co.uk.
PLEASE NOTE THIS DISCOUNT STRUCTURE EXCLUDES ALL OSMO & TREND PRODUCTS, AND ALSO SOME SPECIFIC PRODUCTS WHICH WILL SAY ON THE RELEVANT PAGE THAT THE ITEM IS EXCLUDED FROM VOLUME DISCOUNTS.

General
By making an order you are offering to purchase a product from us, which we will accept to sell you on the following conditions.
All requests are subject to availability and confirmation of the price by us. Delivery times may vary according to availability and any representations made as to delivery times are estimates limited to UK mainland only and are on the basis that we that we are not responsible for any delay in delivery occurring due to postal delays, delays with our courier or force majeure.
More Handles Ltd are absolutely entitled to refuse any order made by you. If your order is accepted we will take payment and inform you by emailing or calling you. When making an order you undertake that all details you provide to us are true and accurate, that you are the authorized user of the credit or debit card used to make your request and there are sufficient funds to cover the cost of the goods.
More Handles Ltd warrants that the goods are of merchantable quality (as defined in the sale of goods act 1979) but does not warrant that the goods are fit for any specific purpose and accepts no liability for any such loss or damage suffered by the customer as a result of any defect in design materials or workmanship of the goods.
Please note that your use of our Site constitutes your agreement to follow and be bound by the terms and conditions as set out in this website.
We may from time to time change the terms that govern your use of our Site. Your use of our Site following any such change constitutes your agreement to follow and be bound by the terms as changed. We may change, move or delete portions of, or may add to, our Site from time to time.
All materials, including images, and written and other materials that appear as part of this website are copyrights, trademarks, or other intellectual properties owned, controlled or licensed by More Handles Ltd.
This website contains links to outside services and resources, the availability and content of which More Handles Ltd does not control, any concerns regarding any such service or resource, or any link thereto, should be directed to the particular outside service or resource.
All descriptions are in accordance with our manufacturers specifications and care has been taken to ensure information is correct. However we cannot guarantee that details are identical with goods owing to market changes.
Contract
1. The Contract Between Us
We must receive payment of the whole of the price for the goods that you order before your order can be accepted. We will confirm acceptance of your order by sending an email to you. Our acceptance of your order brings into existence a legally binding contract between us. We will contact you if we are unable to accept your order for any reason.
2. Price
2.1 The prices payable for goods that you order are as set out in our website.
2.2 You will be required to pay extra for delivery as stated in our website, and it may not be possible for us to deliver to some locations.
2.3 VAT at the current rate is included in the prices advertised on our website. The site displays both the including and excluding VAT prices on every product for clarity.
2.4 All prices shown on our website are subject to change at any time and advertised prices do not constitute a contract between More Handles Ltd and you. We cannot confirm the price of a product until your order is accepted in accordance with our purchase ordering policy.
3. Right For You To Cancel Your Contract
3.1 You may cancel your contract with us for the goods you order at any time up to the end of the 30th working day from the date you ordered the goods. You do not need to give us any reason for cancelling your order nor will you have to pay any penalty.
3.2 To cancel your order you must notify us.
3.3 If you have received the goods before you cancel your order then you must send the goods back to our contact address at your own cost and risk. If you cancel your order but we have already processed the goods for delivery you must not unpack the goods when they are received by you and you must send the goods back to us at our contact address at your own cost and risk as soon as possible.
3.4 Once you have notified us that you are cancelling your order, any sum debited to us from your credit card will be re-credited to your account as soon as possible and in any event within 30 days of your cancellation provided that the goods in question are returned by you and received by us in the condition they were in when delivered to you. If you do not return the goods delivered to you or do not pay the costs of delivery, we shall be entitled to deduct the direct costs of recovering the goods from the amount to be re-credited to you.
3.5 Your right to cancel an order does not apply if the goods you have ordered are bespoke items.
4. Cancellation By Us
4.1 We reserve the right to cancel the contract between us if:
1. We have insufficient stock to deliver the goods you have ordered and will not be receiving further supplies.
2. We are unable to deliver to your area.
3. One or more of the goods you ordered was listed at an incorrect price due to typographical error or an error in the pricing information received by us from our suppliers.
4.2 If we do cancel your order we will notify you by email or phone and will re-credit to your account any sum deducted by us from your credit card as soon as possible but in any event within 14 days of your order. We will not be obliged to offer any additional compensation for disappointment suffered.
5. Delivery Of Goods To You
5.1 We will deliver the goods ordered by you to the address you give us for delivery at the time you make your order.
5.2 Delivery will be made as soon as possible after your order is accepted and in any event within 30 days of your order (except in the case of certain special order items, which will be as stated by us after the order was placed).
5.3 You will become the owner of the goods you have ordered when they have been paid for and delivered to you. Once goods have been delivered to you they will be held at your own risk and we will not be liable for their loss or destruction.
6. Liability
6.1 If the goods we deliver are not what you ordered or are damaged or defective or the delivery is of an incorrect quantity, we shall have no liability to you unless you notify us of the problem within 10 working days of the delivery of the goods in question.
6.2 If you do not receive goods ordered by you within 30 days of the date on which you ordered them (or in the case of certain special order items - within 30 days of the delivery date quoted), we shall have no liability to you unless you notify us in writing at our contact address of the problem within 40 days of the date on which you ordered or in the case of certain special order items, within 40 days of the date on which you expected to receive the goods. If you notify a problem to us under this condition, our only obligation will be, either:
1. to make good any shortage or non-delivery;
2. to replace or repair any goods that are damaged or defective; or
3. to refund to you the amount paid by you for the goods in question in whatever way we choose.
6.3 Save as precluded by law, we will not be liable to you for an indirect or consequential loss, damage or expenses (including loss of profits, business or goodwill) howsoever arising out of any problem you notify to us under this condition and we shall have no liability to pay any money to you by way of compensation other than to refund to you the amount paid by you for the goods in question.
6.4 You must observe and comply with all applicable regulations and legislation, including obtaining all necessary customs, import or other permits to purchase goods from our site. The importation or exportation of certain of our goods to you may be prohibited by certain national laws. We make no representation and accept no liability in respect of the export or import of the goods you purchase.
6.5 Notwithstanding the foregoing, nothing in these terms and conditions is intended to limit any rights you might have as a consumer under applicable local law or other statutory rights that may not be excluded nor in any way to exclude or limit our liability to you for any death or personal injury resulting from our negligence.
7. Notices
Unless otherwise expressly stated in these terms and conditions, all notices from you to us must be in writing and sent to our contact address at More Handles Ltd, Unit 3 Grearshill Road, Kingstown Ind Est, Carlisle, CA3 0ET and all notices from us to you will be displayed on our website from time to time.
8. Events Beyond Our Control
We shall have no liability to you for any failure to deliver goods you have ordered or any delay in doing so or for any damage or defect to goods delivered that is caused by any event or circumstance beyond our reasonable control including, without limitation, strikes, lock-outs and other industrial disputes, breakdown of systems or network access, flood, fire, explosion, accident or extreme weather.
9. Invalidity
If any part of these terms and conditions is unenforceable (including any provision in which we exclude our liability to you) the enforceability of any other part of these conditions will not be affected.
10. Privacy
You acknowledge and agree to be bound by the terms of our privacy policy.
11. Third Party Rights
Except for our affiliates, directors, employees or representatives, a person who is not a party to this agreement has no right under the UK Contracts (Rights of Third Parties) Act 1999 to enforce any term of this agreement but this does not affect any right or remedy of a third party that exists or is available apart from that Act.
12. Governing Law
The contract between us shall be governed by and interpreted in accordance with English law and the English courts shall have jurisdiction to resolve any disputes between us.
13. Indemnity
You agree fully to indemnify, defend and hold us, and our officers, directors, employees, agents and suppliers, harmless immediately on demand, from and against all claims, liability, damages, losses, costs and expenses, including reasonable legal fees, arising out of any breach of the Conditions by you or any other liabilities arising out of your use of this website, or the use by any other person accessing the website using your shopping account and/or your Personal Information.
14. Entire Agreement
These terms and conditions, together with our current website prices, delivery details, contact details and privacy policy, set out the whole of our agreement relating to the supply of the goods to you by us. Nothing said by any sales person or by any other member of our staff on our behalf should be understood as a variation of these terms and conditions or as an authorised representation about the nature or quality of any goods offered for sale by us. Save for fraud or fraudulent misrepresentation, we shall have no liability for any such representation being untrue or misleading. By placing an order with us you will be deemed to have agreed that you have not placed any reliance on anything said by any sales person or other member of our staff.
15. Language
The only language in which an order may be placed and accepted is English.