M Marcus
M-Marcus was founded in 1940 in East London, in an area known as "Ironmongers Row", operated and managed by the same family over three generations. They have a reputation for producing quality ironmongery for the British market by combining old world values with the latest technologies to create products of exceptional quality and design.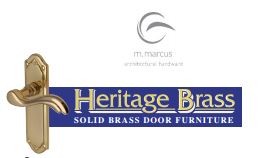 The most well-known brand of M. Marcus is Heritage Brass which provides products made in hot forged Solid Brass. This brand has gone worldwide and has become one of the leading suppliers of architectural and electrical brassware in the U.K. The high quality standards are the result of years of high investment into the brand and the products are created through using the latest equipment.
Traditional styles are created through meticulous care and attention to tooling. Hot forging is the method used to create such high quality products and with the use of robots in the 1990's, polishing is now a quality standard only maintained to that consistency by machine.
The Heritage Brass name was adopted in the 1980s and the company operates under both names. We really like the quality of the Heritage Brass hardware range, they use the finest quality materials to create a range that offers homeowners and designers a single source to coordinate different finishes of door and window hardware, electrical switches and sockets, and cabinet hardware, with some unique and unusual styling differences.
Heritage Brass has the largest coordinated range of hardware available in different finishes. Their range of standard finishes are; Polished Brass, Antique Brass, Polished Chrome, Satin Chrome, Satin Nickel. They have made nearly all their hardware accessories available in these finishes, which provides a much more complete range than many other manufacturers.
More Handles supply the entire Heritage Brass range. The website shows the bestselling handles in the range and includes some of their more popular and more unique styles such as;
Heritage Brass Door Handles Best Sellers
Heritage Brass Saturn Door Handle on Backplate SAT1000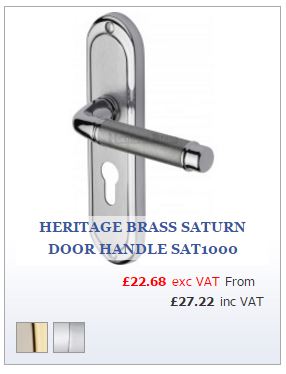 This door handle on backplate has a chunky, rounded lever on a curved backplate with a stepped design that compliments the style of the handle. Available in the 'Jupiter' finish of satin nickel with a gold plated edge or the 'Apollo' finish which is satin chrome with a polished chrome edge, suiting a variety of applications and decor styles throughout your home.


Heritage Brass Edwardian Door Handle on Backplate W3200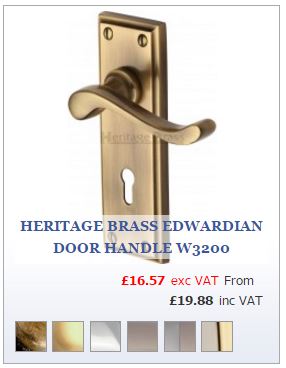 A classic scrolled lever on a simple rectangular backplate with visible fixings for a traditional design, but it is available in a variety of classic and contemporary finishes making it suitable for many different applications throughout your home.


Heritage Brass Gloucester Door Handle on Backplate V6050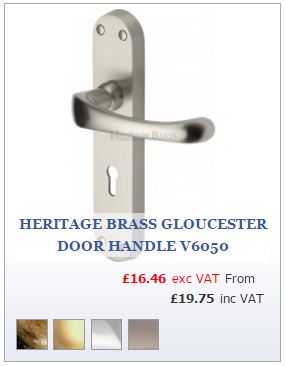 This door handle has a modern style backplate with a rounded design which nicely compliments the large lever style. The handle curves back towards the door for comfortable grip. Available in antique or polished brass, polished chrome and satin nickel finishes to suit both modern and traditional homes.


Heritage Brass Henley Door Handle on Backplate HEN1200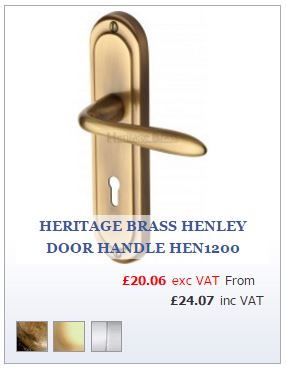 A classically designed door handle on backplate that has beautiful rounded edges with a smooth lever handle for easy and comfortable grip.


Heritage Brass Sophia Door Handle on Shortplate V4140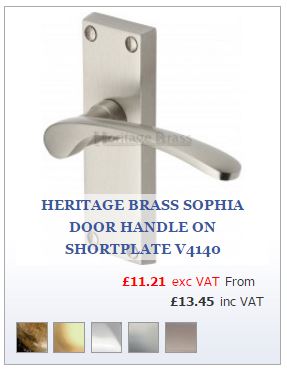 A unique, smoothly curved lever on a short backplate, available in a range of classic and contemporary finishes to suit a multitude of applications and design styles.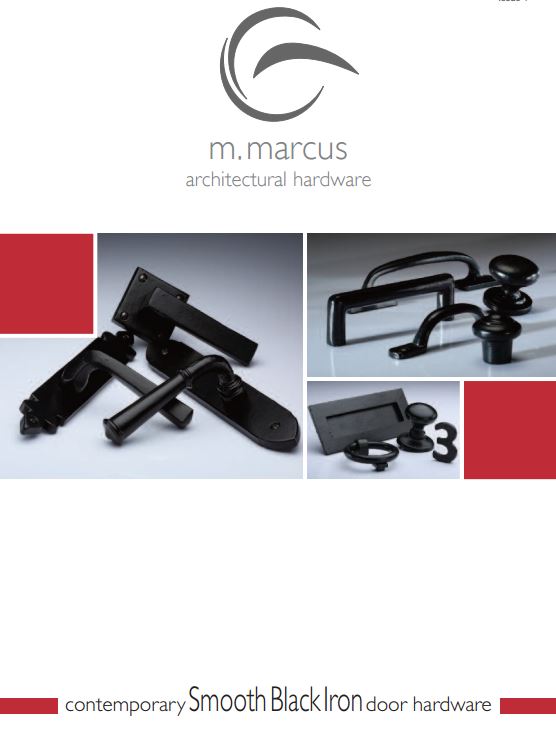 Another fantastic collection from M. Marcus is their Contemporary Smooth Black Iron Door Hardware Range. This new range introduces a new look for authentic black iron door hardware, window fittings and cabinet handles and knobs.
Many of the black antique ranges currently available have an artificially enhanced antique look where a stippled effect is added to create a slightly uneven surface. In order to create an alternative choice and meet modern design preferences M. Marcus Ltd have removed the deep surface indentations leaving instead only the naturally occurring surface grains. This has created a much smoother contemporary appearance yet still maintaining a rustic appearance to the finish.
All products in this new Marcus Smooth Black Iron Door Hardware Range are made from malleable cast iron. This is treated with a zinc phosphating process and then powder coated to provide a durable black finish.
In addition a unique UV Protection is added to the powder coating process making this range a very good choice for external use. The natural greying that can sometimes occur on these types of finishes is much reduced on the new Marcus Smooth Black Iron Hardware Range.
Stainless Steel screws are supplied with every handle that prevents rusting of the screw and avoids any leakage of rust to the handle plate finish.
The range consists of a range of new designs in Smooth Black Iron, including Door Handles on Backplate, front door furniture, Traditional Thumb Latches and Cabinet Hardware and Cupboard Fittings.
M. Marcus Handles and Knobs Best Sellers
M.Marcus Claverley Door Handle on Square Rose FB1933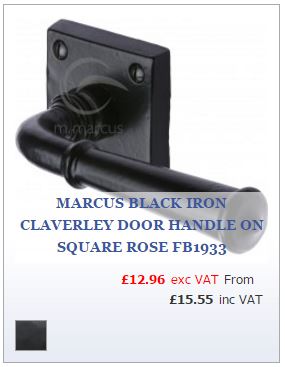 A simple design black door handle on rose that has a simple square shaped rose with visible fixings for a traditional touch and a round lever handle that has ringed detailing at the edge. A beautiful mix of modern style with a traditional black iron finish.


M.Marcus Grafton Door Handle on Backplate FB4400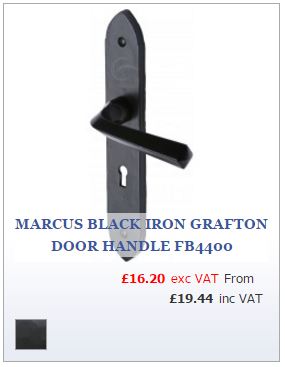 A black iron door handle on backplate, with a lever handle on a traditionally designed Tudor-style back-plate, with a modern smooth black finish. Perfect for adding a traditional feel to your design theme.


M.Marcus Ashfield Door Handle on Backplate FB3700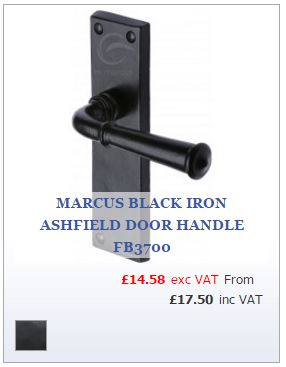 A classic ringed lever handle on a simple rectangular backplate with visible fixings for a traditional look and feel, perfect for period style in traditional premises.
M.Marcus Alveley Round Mortice Door Knob FB4975
A simple black mortice door knob that has a round shaped knob on a round back. A perfect finishing touch in premises with a classic style such as country cottages, manor houses and period properties.


M.Marcus Cupboard D Handle FB331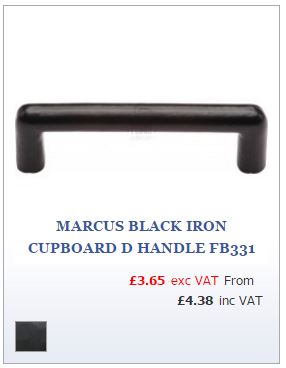 Simple and minimalist D shaped cupboard handle design in a traditional black iron finish, perfect for classic and modern design themes.
Here at More Handles, we are proud to be a retailer for M. Marcus products and we continue to stock their high quality door handles, knobs and more.
The quality of manufacturing in the M Marcus Ranges are excellent, and carry a standard 10 Year Warranty, backed as always with More Handles 'More Service' Guarantee.
Please visit More Handles to view the entire range. For more information, contact us here at More Handles on 01228 516516.