Kirkpatrick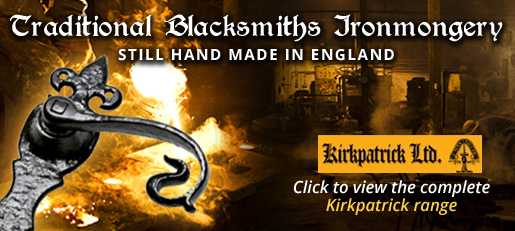 160 years and counting, Kirkpatrick was founded in 1855 by William Kirpatrick. Since then, they have been crafting handmade ironwork for both the industrial and domestic sectors under the same roof where it all began in Walsall, England.
Their long standing traditional methods of casting iron are upheld to this day, resulting in particularly durable and long lasting hardware. "Handmade and British from start to finish", the only manufacturer who genuinely pours their own metal and make all products in the UK. Made by hand over a six week period, each piece is unique and lovingly created, to last a lifetime.
Kirkpatrick's huge range of 2500 architectural hardware items are designed to help customers recreate a traditional period look. A large selection of Kirkpatrick's product catalogues can be traced back over many decades of designs, dating back to the 19th century to remain true to their roots, changing little over the past 160 years. This is why it consists of some beautiful designs of Black Iron Thumblatches, Handles and Hinges. These look great on older properties and cottages and houses where a more sympathetic restoration look is required.
However, their hardware has been adapted over the years, evolving to reflect changing tastes, fashions and technology. So that it can fit not only on just traditional style homes, but also in modern premises, for example windows and doors that have modern UPVC locking systems.
Built from Whiteheart malleable iron, which is perfectly suited to ironmongery, the hardware offered from Kirkpatrick is of an extremely high standard. The iron is cast, and then heat treated in a process called annealing. The castings are heat treated at 1000C with Haematite Ore. The ore acts as an oxidising agent to remove some carbon from the cast. The carbon in cast iron is what causes it to be brittle, so the annealing process makes the casting stronger and more malleable.
It's their experience, expertise by utilising the skills of their local workforce and dedication to producing ironwork of the utmost character that helps to create durable and beautiful ironwork products that have an integrity, authenticity and longevity that cannot be matched by less expensive, poor quality imitations.
Kirkpatrick Best Sellers
Kirkpatrick Flush Ring Pull Handle 3062
Perfect for use on traditional drawers, cupboards, trap doors, sliding doors and other furniture which has a fully recessed requirement.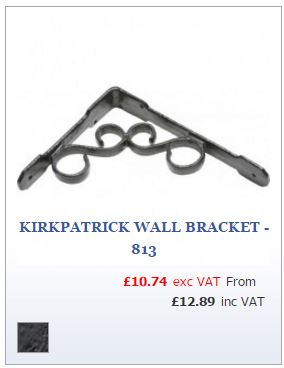 A decorative black iron shelf bracket, perfect for maintaining a traditional look both inside and outside of the home, as these can used on patios and other outdoor use. Created using the highest quality malleable iron, with a plain black finish for added protection and durability. The design and finish give this shelf bracket a vintage and traditional style, a wonderful finishing touch in classic design themes.
Kirkpatrick Cranked Monkeytail Bolt 1547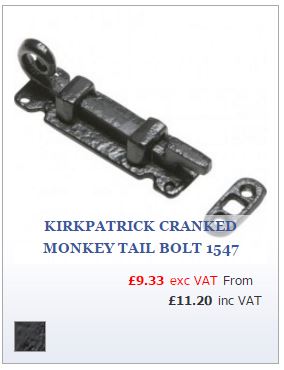 An ideal piece for creating an authentic look and feel in your home, by adding small traditional fixings to doors around the home.


Kirkpatrick Safety Hasp and Staple 3416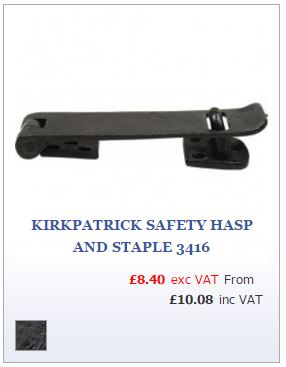 This black iron safety hasp and staple is a perfect way to secure doors while maintaining classic and rustic style décor. Part of Krikpatrick's selection of black iron heavy duty fittings. This safety hasp is to be used with a padlock and has a slotted plate fitting over the staple to prevent it being removed when locked.
Kirkpatrick Locking Window Fittings: Pivot Window Lock 116 and Locking Casement Fastener 1165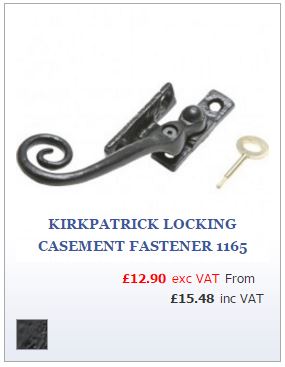 Perfect accessories for traditional window designs. These are faithfully reproduced to original designs by hand, available in left and right hand locking versions to fitting to both sides of the window.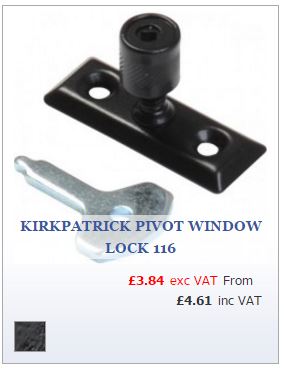 These locking pivots are suitable for most casement and pivot metal windows and will match the fasteners and stays in Kirkpatrick's collection for a fully coordinated look.


If you are looking for an authentic 'Made In Britain' range of black iron products, with new fittings that perfectly match the style and character of old buildings then Kirkpatrick may well be the perfect choice.
The entire range of Kirpatrick Traditional Ironwork is now available at More Handles, please give us a call if you have any questions on 01228 516516 or buy online.