Fulton & Bray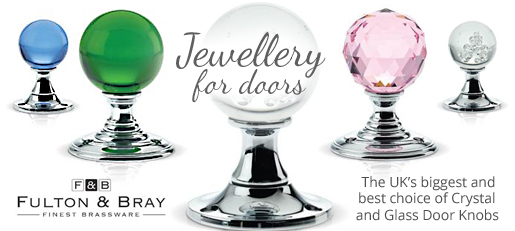 Fulton and Bray are designers and suppliers of top quality brass and glass hardware. They are longstanding professional hardware manufacturers and their range is outstanding. Much of the Fulton and Bray catalogue is tailored towards a modern style. However, more traditional styled hardware is also produced, ideal for period and contemporary properties alike.
Fulton and Bray provides an array of door hardware and accessories that are designed to deliver high-end products at competitive prices in today's economic market. All products created by Fulton and Bray are available in a variety of finishes so there is no need to worry about a particular style not being in the finish you were looking for. The hardware is produced from materials such as porcelain and brass, both hard wearing materials that are guaranteed to stand the test of time.
Whether you're looking for the perfect door hardware to compliment your renovation project or in need of some classic accessories to finish off your contemporary masterpiece you'll find what you're looking for in the Fulton and Bray collection.
Fulton and Bray Best Sellers
Fulton and Bray Roller Sash Window Stop FB31 Set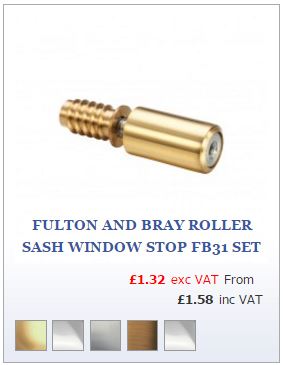 Traditional solid brass Roller Sash Stop that allows a sash window to be locked in an open position for ventilation.
Part of the range of Window Fittings from Fulton and Bray! They have an array of products ranging from Roller Sash Stops and sash lifts to Brighton pattern sash fasteners and ball bearing axle pulleys. All available in an array of finishes to suit various windows in classic and contemporary homes. It also means window fittings such as this roller sash window stop will match the door hardware and cabinet fittings within the other Fulton and Bray collections to create a fully coordinated look around your entire home.
Fulton and Bray Arundel Door Handle Shortplate FB021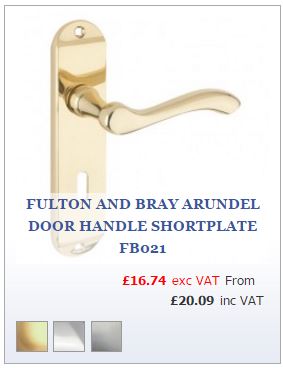 The Arundel door handles on backplate from Fulton and Bray have a simple and sleek design with smooth flowing lines and a clean backplate, it is one of the best looking contemporary lever handles available.
Multiple styles of this lever door handle are available; standard lock, euro lock, lever latch and bathroom styles in polished brass, polished chrome or satin chrome finishes.
Fulton and Bray Lincoln Door Handle on Backplate FB041
These beautifully made Lincoln door handles on backplate have a simple and classical design with smooth flowing lines and a clean tiered backplate.
Part of Fulton and Bray's new collection, this brand brings you stylish, high quality designed handles at unbeatable prices. Each attractive metallic finish is durable and offers a slightly different style, to ensure there is one that is most suitable to your interior style and design
Fulton and Bray Euro Profile Escutcheon FB51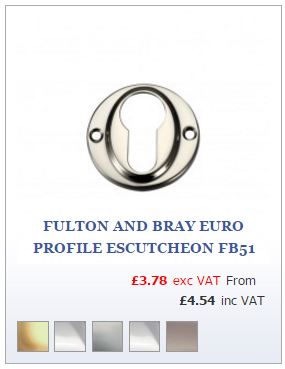 Part of Fulton and Bray's range of accessories that are produced with traditional and classic designs in mind, the complete range offers the aesthetics of traditional hand-crafted products with a high level of technical detail and manufacturing. The range varies from doorstops and thumbturns to pull handles and finger plates.
These Euro escutcheons match perfectly with the Fulton and Bray range of Lever Handles and Mortice Knobs, available in polished chrome, satin chrome, PVD Nickel and polished brass to suit a wide range of interior design themes and to match your existing fittings for a fully coordinated look
Fulton and Bray Glass Ball Door Knob Clear Faceted FB301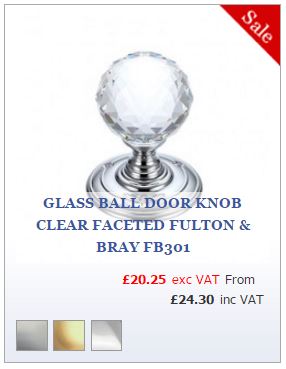 These glass door knobs have popular traditional designs that have an elegant and timeless look, but combine the very best optical-grade glass with beautiful brass and chrome fittings to give a very high quality product.
We are particularly pleased with the quality of these clear glass door knobs as they reflect the light beautifully, and better in fact than many more expensive versions.
Fulton and Bray Porcelain Mortice Door Knob FB304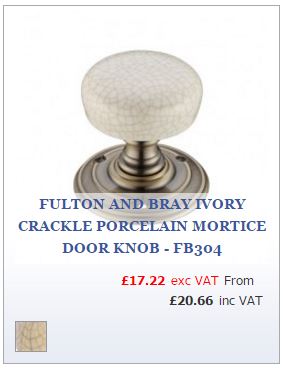 A very decorative porcelain door knob, the ivory crackle glaze porcelain and florentine bronze finish on the rose looks fantastic when set against traditional style furniture. For a more modern twist they are also available in white porcelain with a polished chrome rose, or grey crackle porcelain with a polished chrome rose.
Fulton and Bray top quality brass and glass hardware by Zoo Hardware is now available to buy online through More Handles. Here at More Handles, we are so glad to be stockists of Fulton and Bray products, stocking mortice door knobs, door levers, cabinet hardware and hardware accessories.
For more information, contact us here at More Handles on 01228 516516.