From the Anvil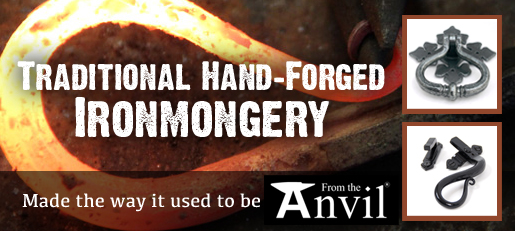 For over fifteen years From the Anvil have been designing and manufacturing architectural high quality, hand-made, functional ironmongery from their base in Wales.
Manufacturing takes place at their site in the Welsh hills, with a workshop, design hub, showroom, offices and warehouse that has a vast stockholding to achieve swift delivery times.
From the Anvil designs are based on timeless classics with new contemporary twists to combine style with functionality and ease of use.
The traditional hand-forged process of shaping the base metal, using fire and an Anvil means their products retain both strength and beauty and also means no two pieces are identical, each one a unique work of art that will only enhance its setting.
From the Anvil's products are available in various finishes:
The distinctive From The Anvil Beeswax finish is their most popular finish. It is treated with a special wax that imparts a subtle richness to the metal, which adds a unique charm to any property. This gives excellent protection where products are fitted internally and occasionally maintained with wax.
The traditional Powder Coat is suitable for internal and external use. It provides an attractive and durable corrosion resistant finish that can last for many years. It is an excellent low maintenance option for exterior ironmongery applications.
The Pewter Patina finish is suitable for internal and external use, as it has excellent anti-corrosion properties. It beautifully highlights the texture of the hand forged steel. We have a few designs that are unique to the pewter range, and again look very sympathetic in an older building, or where a more traditional style is required.
The Bronze finish is quite different to other oil rubbed bronze versions on the market. The finish will not wear and requires very little maintenance, being well suited to external or internal applications.Bronze harks back to a bygone era when only aristocrats and the well-off could afford to enhance their stately homes, mansions and town houses with the rare and expensive bronze metal.
From the Anvil Best Sellers
From the Anvil Monkeytail Door Handle 33279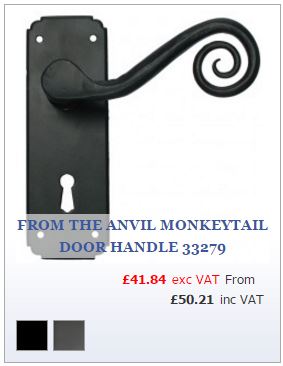 Owning a period property can be very rewarding, but restoration and repair can often be a daunting challenge, especially with regard to door handles, door knobs and ironmongery fittings. Which is why From the Anvil's designs continue to be in great demand, they have a timeless appearance like this classic spiraled monkeytail lever door handle on backplate.
These door handles also have great functionality, available with a non-locking latch backplate, standard UK locking backplate or bathroom locking backplate with a turn and release to suit a wide range of applications. The classic powder coat black and beeswax finishes are also ideally suited to period properties.
Window and Curtain Accessories
From the Anvil Curtain Pole 83615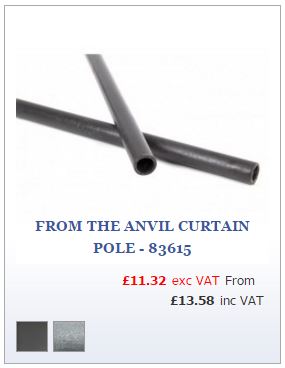 Part of the fantastic range of traditional and ornately designed window and curtain accessories by From the Anvil, a simple curtain pole in beeswax or pewter with a range of sizes to suit your windows, designed to be used with their matching mounting brackets.
Locking window fasteners that are faithfully reproduced to original designs by hand in the traditional fashion of English Blacksmiths. They are ideally suited to cottages, listed buildings and period properties.
From the Anvil Pewter Beaten Knob 33626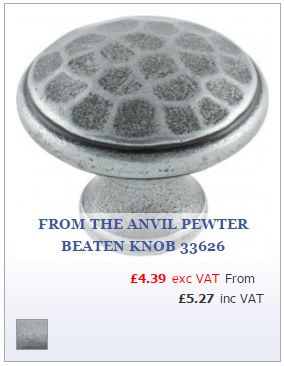 A beautiful pewter cupboard knob, each indentation is created by an individual hammer blow and no machine could achieve this beautiful effect. They are suitable for kitchen cupboards, doors and drawers. Available in three sizes to suit a range of applications.
From the Anvil Pewter Letterplate 33680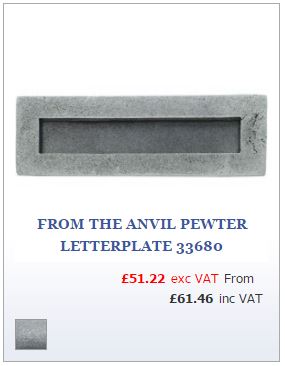 An eye-catching large pewter letterplate that will maintain that feel of period authenticity, with the character required for older traditional doors. The warm feel of the pewter will look fantastic when set against original woodwork or alongside antique fittings, especially in a listed property.
From the Anvil Penny End Tee Hinge 3320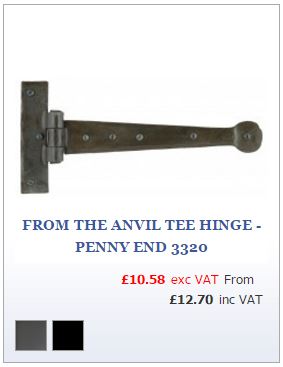 These penny end tee hinges are hot forged, not welded or fabricated and the hinge knuckle is very strong. They will provide individual character and a bespoke look to your doors.
From the Anvil Beehive Ebony Wood Door Knob 83574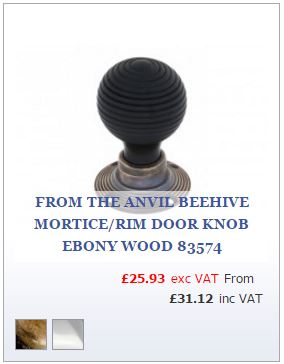 From The Anvil have specialized in recreating original designs by hand and so have acquired a reputation for excellence and these ebony wood door knobs are no exception. They have a marvelously rich and dark hued solid wood ebonised beehive mortice/rim door knob with an antique brass or polished nickel rose to suit contemporary and classic interior decor.
From the Anvil Farmhouse Hat and Coat Hook Rack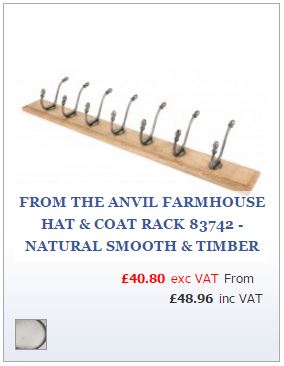 A solid timber rack with Acorn designed hat and coat hooks in a warm wenlock smooth finish. The back board has been oiled to give the timber a rustic effect perfect for traditional homes. This hook rack can be used in a multitude of places - bathrooms, hallways, coat closets and is strong enough to hold multiple items to keep your home neat and tidy with a traditional and stylish look.
If you're looking to recreate a true classic décor in your home, look no further than hardware from 'From the Anvil'. Each piece of hardware crafted is made to be extremely durable so that it will last for many years to come.
We are proud to stock quality ironmongery from 'From the Anvil' here at More Handles. We stock door handles, knobs, window fasteners, hinges and more. For more information, contact us here at More Handles on 01228 516516.