Frelan Hardware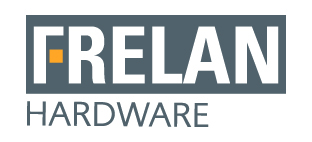 Frelan Hardware was formed in 1973, for the past 40 years they have been involved in creating high quality ironmongery and hardware for both the architectural industry and for domestic use.
They have established themselves as a well-known brand throughout the world and are now one of the UKs biggest wholesale importer and distributors of Architectural Ironmongery. They use a wide range of high quality materials such as brass, zinc and even Swarovski crystals in their hardware to offer both traditional and contemporary design hardware at competitive prices for both budget and high specification projects.
Manufactured in factories from around the world Frelan Hardware have collated designs and styles offering choice and quality to help provide the ever changing market place with a diversity of products from which any design can be achieved.
Their ranges include: A designer collection that offers a stylish mix of classical and modern designs manufactured from zinc or brass and plated to create a wide choice of finishes with matching escutcheons and turns and releases.
The Paja collection of levers and accessories manufactured in Portugal from solid brass. The Reguitti and Mariani ranges of classic and contemporary designs that are made using zinc and brass. Manufactured and designed in Italy to a high quality to enable a rich designer finish to any specification.
A selection of door and window furniture designed for PVCu doors and windows that are equally at home with modern wooden doors and windows.
Stainless steel furniture that is manufactured using grade 304 and 202 stainless steel and is ideal for use in both commercial and domestic situations
Black antique and pewter furniture that offers classical designs of furniture manufactured from malleable iron create an authentic feel of days gone by.
As well as aluminium, glass, crystal and porcelain door furniture and a wide range of exterior door furniture and fittings to add the finishing touches to the exterior of properties as well as adding security through locks and latches for both mortice and rim applications of both architectural and budget quality.
Frelan Hardware Best Sellers
Frelan Single Action Spring Hinge Set of 3 - J9800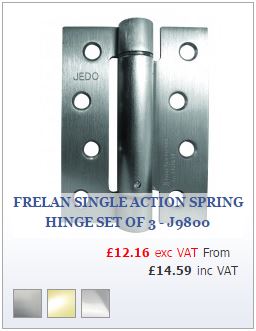 Spring hinges are popular in home that require self-closing fire doors such as flats and multiple storey town houses, using these hinges means no overhead door closer or door jamb closers are required. This single action spring hinge set will open only one way and the tensioning of the spring mechanism will close the door. Designed for use on residential fire doors.
This set of three spring hinges are available in Brass, Polished Chrome, Satin Chrome finishes to suit a wide range of applications. All 3 hinges contain an adjustable spring which automatically closes the door on each occasion. The tension can be adjusted using a simple Allen Key to set the closing action correctly to each individual door.
Indicator Bolt - Black Antique Frelan - JAB80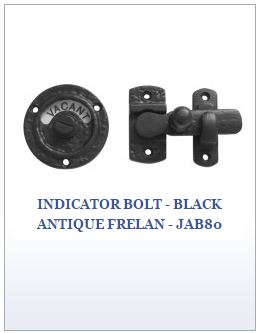 A very traditional and simple black antique indicator bolt, with vacant and engaged signage to show when the bathroom is in use. This classic finish and design will go perfectly with natural wooden or neutral painted doors. This piece is part of Frelan Hardware's wrought iron, black antique furniture range that has a selection of classic designs, perfect for traditional decor in period properties, or for creating an authentic feel on a more modern door.
Frelan Stylo Door Handle - JV531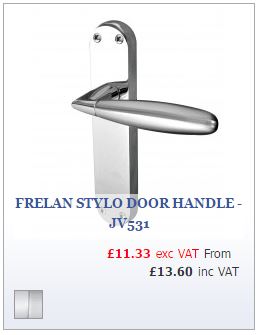 A modern dual finish of polished and satin chrome chunky lever handle on a long sturdy backplate with a modern smooth curved shape. The Stylo handle is part of their designer door handles range, it is a stylish door handle on backplate perfect for breathing new life into old doors and giving them a modern update.
Frelan JV3013 Delta Door Handle on Backplate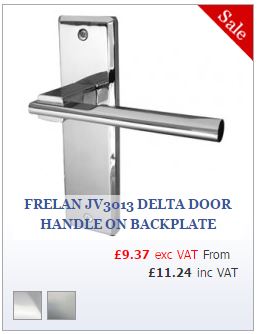 This chrome door handle has a modern and minimalist design with a contemporary square theme with smooth lines, on a quality sprung lever and well finished backplate. This sleek and simple design is perfect for minimal modern decor.
Frelan JV509 Gamma Door Handle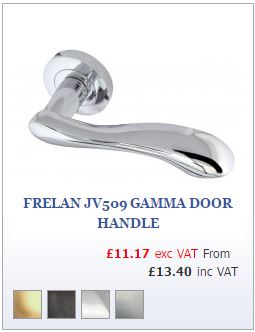 This door handle on rose is a classic design with a curve to the handle to add a high quality designer feel to doors around your home. Available in a choice of polished brass, polished chrome, satin chrome and even bronze to suit a wide range of decor in classic and contemporary styles. The fixings are concealed by the high quality screw-on rose.
More Handles are proud to stock hardware from Frelan and we have a wide selection of their handles, knobs, window and cabinet furniture and other hardware on offer.
For more information, contact us here at More Handles on 01228 516516.