Finesse: Designer Pewter Door Handles & Knobs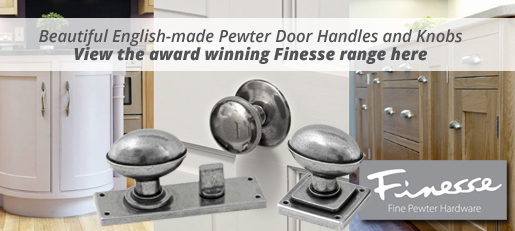 Located in the beautiful County of Durham, North East England, Finesse produce the very best solid pewter door handles and cabinet hardware. Their skilled craftsmen have developed a unique process of hand finishing the pewter metal which gives the lustrous tactile quality to all Finesse Design Pewter Hardware.
Finesse has over 30 years of manufacturing experience, creating exquisite pewter door and cabinet hardware. Using only the finest lead-free pewter (min 92% tin), which is entirely safe to use anywhere in the home and does not rust. Finesse's award winning designs are available from specialised dealers and discerning kitchen and bath showrooms. More Handles is proud to say we are the leading UK stockist for Finesse Design Pewter Door Handles with the largest showroom display in the country and stocked quantities of all designs.
They blend modern production techniques and processes with a unique hand crafted finish that highlights the natural beauty of pewter in a distinctive way. Their Pewter door handles and pewter door knobs add a distinguishing rustic feel to any home. The characteristic warm, tactile feel of the metal has a natural finish which will not corrode or tarnish, making it an ideal metal for handles and knobs anywhere in the house.
Ian Smith is the designer behind the award winning range of pewter hardware. Ian was interested in design from an early age, becoming a silversmith with his own hallmark at 16 years old, which he credits to having grown up in the same village as the famous sculptor Henry Moore. A chance meeting with an interior designer led him to start designing and manufacturing door hardware 15 years ago, and become part of the DJH Group in 2005.
Finesse Design have their own engineering shop where many patterns are produced using CNC machining. Production moulds are then made and the raw material is mixed to their own high specification. The Finesse Design factory is ranked amongst one of the best in the world for Pewter casting. Having invested in the latest technology casting machines as well as keeping a hand pouring facility for larger items, there is a level of detail and care in production that clearly shows through in the final product. Once cast each piece goes through a unique finishing process developed by Finesse themselves. Finally, each piece is hand assembled and checked, and then carefully packed.
Finesse Handles and Knobs Best Sellers
Finesse Pewter Durham Door Handle FD003
Thie Finesse pewter door handle has a unique, chunky shaped lever that is suitable for many different applications throughout your home. The backplate has a classic, straight design that compliments the lever style. Pewter door handles add a distinguishing rustic feel to any home. The characteristic warm, tactile feel of the metal has a natural finish which will not corrode or tarnish, making it an ideal metal for door handles and knobs around your house.


Finesse Pewter Elton Cup Handle PCH005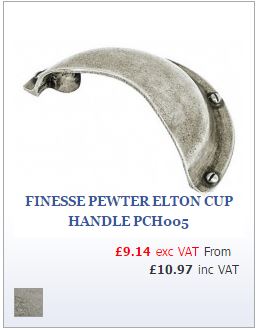 A popular pewter cupboard handle, the rustic, traditional design with visible fixings and smooth curved shape really highlights the natural beauty of pewter and offers a bespoke look and finish for your drawer fronts and cupboard doors. It is simple to install with the fixing screws supplied.
Finesse - Gosforth - Pewter Pull Handle - FD276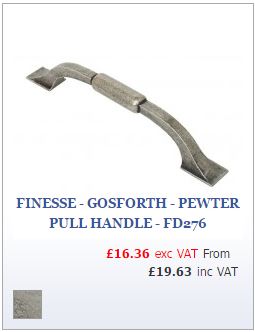 A classic looking cupboard pull handle that can be used on cabinets, cupboards and drawer fronts on stylish furniture throughout the home. The natural feel of the Pewter finish has a delightful blend of light and dark tones and compliments both coloured and natural wooden drawers and cupboards.


Finesse Pewter Bromley Cabinet Knob FD282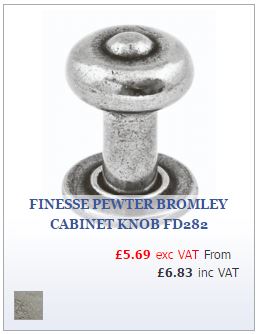 An attractive solid pewter cupboard knob that has has a neat functional style that will suit all types of fitted or free standing furniture in residential applications and is simple to fit and maintain.

Finesse Pewter Multi Point Door Handles - Durham FDMP01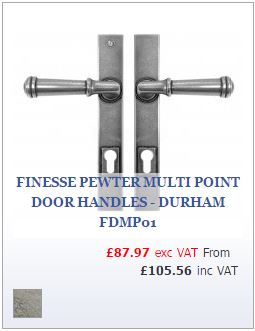 A narrow plate door handle suitable for uPVC and timber doors using a modern multi-point locking system where the handle is unsprung allowing you to lift the handle upwards to engage the bolts. These multipoint pewter door handles can be ordered in three variations: Standard entry backplates with key holes to both inside and outside. Patio entry backplates with key hole to the inside only. To be used with single cylinder lock providing better security as there is no access from outside. Passage entry backplates with no key holes at all.
More Handles provides the entire range of Finesse Design pewter hardware much of it from stock for next day delivery. Our showroom in Carlisle has every Finesse door handle on display to see, touch and feel, with many customers visiting from all over the UK. The More Handles range of Finesse handles and knobs includes door handles, door knobs, cabinet knobs, cupboard knobs, cup handles and many feature and statement designs such as beaten metal and wood and pewter combinations.
Browse the collection of Finesse pewter handles online today and add an organic and unique finish to your kitchen cabinets, interior doors or bedroom cupboards. Or feel free to give us a call and we can talk through any requirements you may have, 01228 516516.
Paul, More Handles director said; "We have made a large investment displaying and stocking the Finesse range of products, and creating a lovely showroom to allow customers to enjoy spending time choosing the right look for their project. All the directors here have Finesse Handles in their own properties, so that must say something! Although there are a number of places selling Finesse products we are the only showroom in the UK with a full display and stock actually on the shelves"
All Finesse Design products are primarily designed for internal domestic use. When used externally, over time the appearance of outer handles will alter due to weathering - we do not recommend for external use in coastal areas or for exposure to harsh weather environments.