Carlisle Brass Door Handles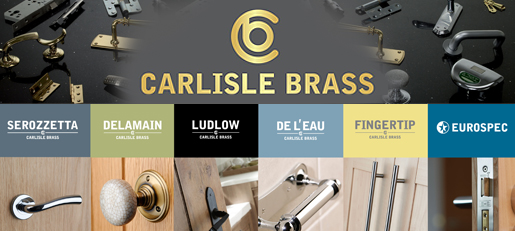 Since 1986 Carlisle Brass have designed, sourced and distributed their own brands of door and window furniture through architectural ironmongers like More Handles to builders, joiners, new build developers, architects and property companies.
Their quality, service and innovation has made them the UK's largest specialised developer of door and window furniture for residential and commercial properties. Last year they sold £37m of hardware, including more than 2,100,000 door knobs and handles!
They have the widest range of beautiful hardware, from the 1st April 2015 there were 5,786 items in the Carlisle Brass range. They carry on average £10.1m of stock in their UK warehouses, which means 96.7% are on the shelf for next day delivery.
Their fantastic range of products include door handles, door knobs, cupboard handles, locks, latches, hinges, window handles and much more. Manufacturing from solid brass, stainless steel, zamac, aluminium, bronze and more, Carlisle Brass provide an unrivalled range of high quality products. The range of finishes available provides an excellent variety suited to meet whatever style and decor you require including brass, chrome, bronze, nickel, steel, black, porcelain.
Carlisle Brass Door Handles and Knobs Best Sellers
FTD555 Traditional Cup Handle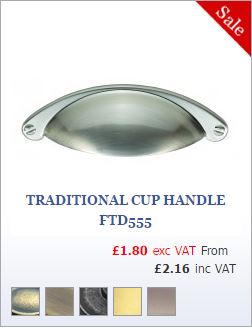 A beautifully made and finished cup handle, the simple shape offers great versatility as it suits many different styles of cupboards and drawers. It is also available in a variety of finishes; antique brass, antique burnished brass, pewter, satin brass, and satin nickel. Making it a very popular choice as it is well suited to both contemporary and classically designed interiors on a wide variety of cupboard furniture.
FTD450 Cupboard Bow Handle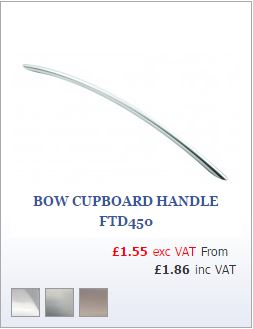 A sleek and simple curved cupboard bow handle that is a popular choice for bedrooms and kitchens, available in modern metallic finishes of bright polished chrome, fresh matt satin chrome and satin nickel. Well suited to contemporary decor, a perfect choice for updating cabinets and cupboards. Available in eight lengths, so no matter what door or drawer you are working on you will be able to find the appropriate length. The chrome finishes also means these cupboard handles are virtually maintenance free.
CEB010Q Cebi Mono Chrome Lever Handle on Square Rose
A lever door handle with European inspired design that is perfect for contemporary premises, with modern polished and satin chrome plated finishes and a modern design. The lever is sleek and angular with smooth edges on a concealed fix, square shaped, screw-on rose.
Carlisle Brass DL451 Lytham Door Handle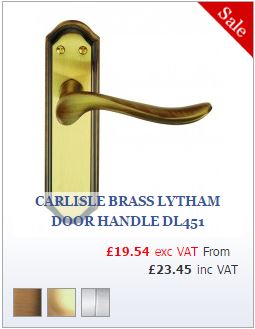 Part of the Fratelli Pelatini Collection, a popular choice of door handle on backplate as it is manufactured using a quality Hot Stamping process to ensure hard-wearing durability throughout use, door handles made in this traditional way are sure to impress any visiting friends and family. A classic design with a long curved lever matched with a stepped backplate in Florentine bronze, polished brass and contemporary polished and satin chrome dual finish.
Lightly-varnished wood is a perfect match for bronze door handles, the tone of the wood really highlights the warmth in the bronze. Chrome is versatile, slick and stylised, a perfect finish for the most contemporary of properties.

M47 Victorian Cupboard Knob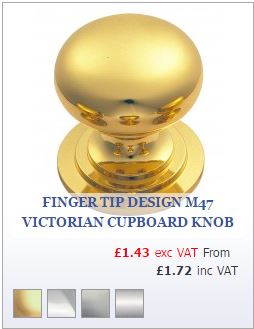 Simple and classic solid brass one piece Victorian cupboard knob with a heavy, quality feel in traditional polished brass or for a more modern look chrome and stainless steel finishes are also available.
Carlisle Brass is the parent company at the head of a large group containing a range of different brands that cover several different markets including:
Eurospec: High quality locks, panic hardware and specification door hardware for the commercial sector.
Eurolite: High specification electrical switch and socket plates with fully certified interiors from Crabtree and Volex.
Del'Eau: A beautifully crafted bathroom range for domestic applications where a chrome or stainless steel finish is required.
Delamain: Traditional and luxury solid brass, crystal and porcelain mortice door knobs and accessories with French regency period influences.
Fingertip Design: A wide mix of contemporary and traditional cabinet furniture in a wide array of materials, such as crystal, pewter and porcelain.
Ludlow Foundries: Period range of traditionally crafted and hand-made black antique, pewter and beeswax hardware for traditional commercial and residential properties.
Manital Maniglie Italiane: European designed luxury lever door handles, slightly unusual finishes but a functional and aesthetically pleasing range of prestigious levers.
Serozzetta: European style door and window hardware designed in the UK to suit the modern domestic home.
As well as Carlisle Brass' full range of branded products of architectural ironmongery for the domestic sector in the Carlisle Collection from aesthetically beautiful door handles to high specification hinges and high end designer door furniture.
This huge range of brands provides the best choice of door handles and hardware in the country, specified as standard by all top ten new home developers in the UK, and with 39 of the top 50.
The wide range of brands has also earned them a reputation for continued innovation as they regularly update and release new designs and finishes to reflect the ever changing fashion and ideas in architectural design. Over the past 12 months they have introduced 1039 new products to the market, refreshing 18% of the entire range.
Over the past year Carlisle Brass has delivered 923,556 order lines to resellers with 96.59% on time, next day with only 0.32% quality defect rate. They have spent £203,347 on product testing and accreditation alone. They are one of the few UK companies that still make hinges, locks and emergency exit hardware in their own CE, BSI and Certifire approved factory. With an in house cylinder shop for rapid turnaround of master key, keyed alike and specialist locking options. Choose More Handles and Carlisle Brass for your next project and see the difference yourself.
More Handles is the UK's leading supplier for all Carlisle Brass products via the internet, phone or through their showroom in Carlisle.