Atlantic Door Handles
Atlantic UK Architectural Hardware is a family run business that has been in the construction and ironmongery industry since 1989. Over this time they have earned themselves a reputation for "simple, honest, on-time, quality service". They provide unique designer door handles to home owners and designers for distinctive finishing touches to projects, these pieces are manufactured to the highest standards.
They have a selection of unique ranges of architectural hardware including Old English levers that offer rustic charm, Senza Pari Italian inspired designed levers for innovative statement style, their Status range has designer styles at valuable prices or the Mediterranean range of elegant and contemporary levers. This variety of collections ensures there will be beautifully crafted door furniture to inspire you with a quality you can hold onto, that will suit your design theme.
Atlantic Door Handles Best Sellers
The rustic charm of the Old English levers will give the desired effect, whether restoring period properties or trying to create that authentic feel. The unique range of traditional lever handles and accessories reflects their architectural heritage. Manufactured to the highest standards to add a reliable and distinctive finishing touch to your project.
The Status range of designer levers represents real value for money. These stunning designer levers will create a stylish finishing touch to any modern interior. A quality you can hold onto at a price you can afford. Available in satin or polished chrome finishes, the designs offer flowing lines of the Arizona to the functionality of the Kansas, there is a style to suit everyone at a very affordable price.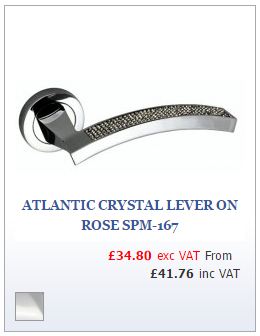 Mediterranean range has elegant, contemporary levers that are manufactured to the highest of standards and will add that distinct finishing touch to your project.
Senza Pari offers innovative style and Italian inspired design to make a statement in your home. As it is an exciting, young and innovative range of standout handles that offer cutting edge design.