Armac Martin Handles
Armac Martin is a British manufacturer of high quality Cabinet Hardware and Furniture Fittings. They have been assembling and manufacturing quality hardware for a grand total of 236 years. The company, in fact, is actually three companies that merged together in the 20th Century. They are currently based in Duddeston, Birmingham and have become an international hardware company.
Brass Turned Parts create the hardware ready for Armac to dress, assemble, and finish the parts and Martin to then distribute the products to the public. This process has become streamlined, modernised and far more efficient which has led Armac Martin to produce some of the highest quality hardware being produced and distributed to the domestic and the architectural sectors both in the UK and internationally, today they truly are a global business.
Armac Martin have access to their own foundry source for sand casting, forging and hot brass stamping for traditional ironmongery. By combining the best of these traditional time honoured craftsmanship methods with the latest in CAD Drawing and Engineering, Laser Engraving and Rapid Prototyping Machines Armac Martin are able to create individuality for customers fittings, to add a level of exclusivity to furniture and building designs. They have been able to create and develop their own range of unique and stunning cabinet hardware and fittings for leading designers from all disciplines to create the perfect finishing touches for many top class kitchens, bedrooms and furniture designers around the world.
Armac Martin Cupboard Handles and Knobs Best Sellers
Rotunda Cupboard Knobs and Rotunda Cupboard Pull Handles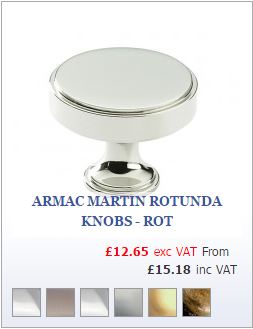 The Rotunda range of cupboard handles and cupboard knobs are a great example of the Armac Martin range, the unique design and shine of the metal really makes these handles really stand out. The quality, weight and finish is second to none and showcases British manufacturing at its best.
The Rotunda Pull Handle is a sleek rectangular bar that is a great style for contemporary kitchens and bathrooms as it works well with oversized and rectangular shaped or long mosaic tiles. The nickel and chrome finishes look fantastic set against ebony or espresso-coloured cabinets, and modern pendant lighting.
Cotswold Cup Pull Handle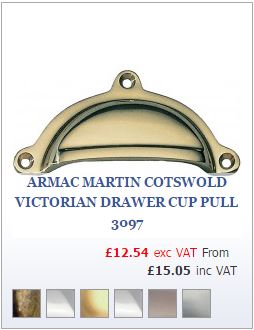 The Cotswold Cup Pull Handle has a very traditional look with classic visible fixings and rich, warm antique and polished brass finishes that add a beautiful classic style to drawers, cupboards and cabinets, but it is also available in contemporary mirror-bright polished finishes or fresh satin finishes of chrome and nickel. Making the Cotswold Cup Pull well suited to both old and new interior designs.
Lincoln Cupboard Pull Handle
The design inspiration for this modern tubular cupboard pull handle is from the iconic Lincoln tunnel in New York City with the decorative ends of the pulls intended to portray beaming headlights emerging into the night sky. The Lincoln Pull Handle's beautiful design when combined with its contemporary finishes of chrome and nickel make for a lovely addition to bedroom furniture for a subtle modern yet classic twist.
Edgbaston Cupboard Pull Handle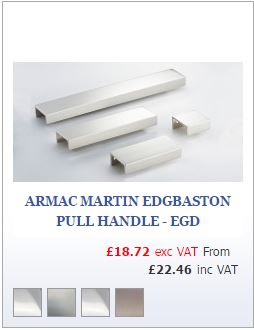 Edgbaston is an affluent up market area of Birmingham, England and the name originally means 'bold edge', the obvious design inspiration for these Cupboard Pull Handles. The ultra slim Edgbaston Cupboard Pull Handles are available in beautiful and contemporary chrome and nickel shades, they are perfect replacement handles if you are looking to transform and modernise your cabinets and drawers.
Here at More Handles, we are proud to be a retailer of Armac Martin products and we continue to stock their high quality cupboard handles, cupboard knobs and more.
For more information, contact us here at More Handles on 01228 516516.