 When redesigning your house, finalising the décor
and picking out the finishing touches can be a tedious process. You just want to have your house finished and done with but you still have all these little odds and ends that need doing. However, here at More Handles we think we can make picking out
door knobs a little bit less tedious with our wonderful range of door knobs.


We think we can make buying door handles exciting by offering you only the best luxury handles, such as our Swarovski range.
Crystal door knobs can add a touch of luxury to any home, and with our Swarovski selection you can feel as if you even attach jewellery to your doors! We have a huge collection for you to choose from including the faceted Swarovski crystal door knob. This door knob has a pumpkin design that really sparkles and the fixed rose displays the crystal wonderfully. We can even guarantee that it is made with pure Swarovski elements. These precious stones come in two jewel tones, large and small. The half faceted version is egg shaped as opposed to the full round version. The faceted crystal fits into a chalice shaped rose, adding a touch of real elegance to your home. Bring a sparkle even to your doors with our crystal door knobs.

Create the look you want with the help of More Handles.
We stock great designer
door knobs
by brands such as Carlisle Brass, Finesse Design, Kirkpatrick Door Hardware and Swarovski including others. We stock everything from traditional, gothic style pieces to minimalist chic. Our
door knobs
both look great and are fully functional.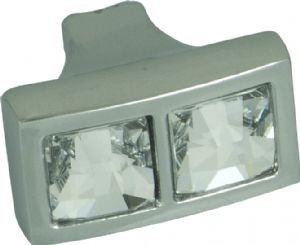 If you want to dress up your doors with our selection of designer door knobs contact us at 01228 516516 or email
sales@morehandles.co.uk