About More Door Handles
More Door Handles - One of the UK's leading Architectural Ironmongery Specialists. More Handles provides the largest range of door hardware available in the UK, and the vast majority can also be purchased via their industry leading website; www.morehandles.co.uk. The Website was set up back in 2007 and has grown to establish itself as one of the benchmark websites for retail customers, DIY Hobbyists, Property Developers, Builders, Joiners, and more. The huge range of ironmongery products are sourced from many different manufacturers including; the very best British-made manufacturers; Specialist Italian and German manufacturers, and the high quality far eastern suppliers.
All the Architectural Ironmongery at More Handles is supplied via UK based companies, and so carries extensive testing certificates, industry standard compliances and guarantees on the quality of the products. We do not manufacture or import any items directly, therefore giving all our customers the peace of mind that all products we sell are only genuine, new, UK specification products. All supplied by UK based manufacturers and wholesalers.
More Handles employs over 25 experienced people with decades of knowledge, advice, expertise and experience in the door handles and hardware industry. We've taken all of this experience and channelled it into our Online Website and our Carlisle based Trade Counter and Showroom. Both arms of our business are efficient and well stocked. We're round the corner from one of our biggest suppliers. If they're in stock then we are – so no need to fret about a long delivery time.
Come and Meet The Team - Click here.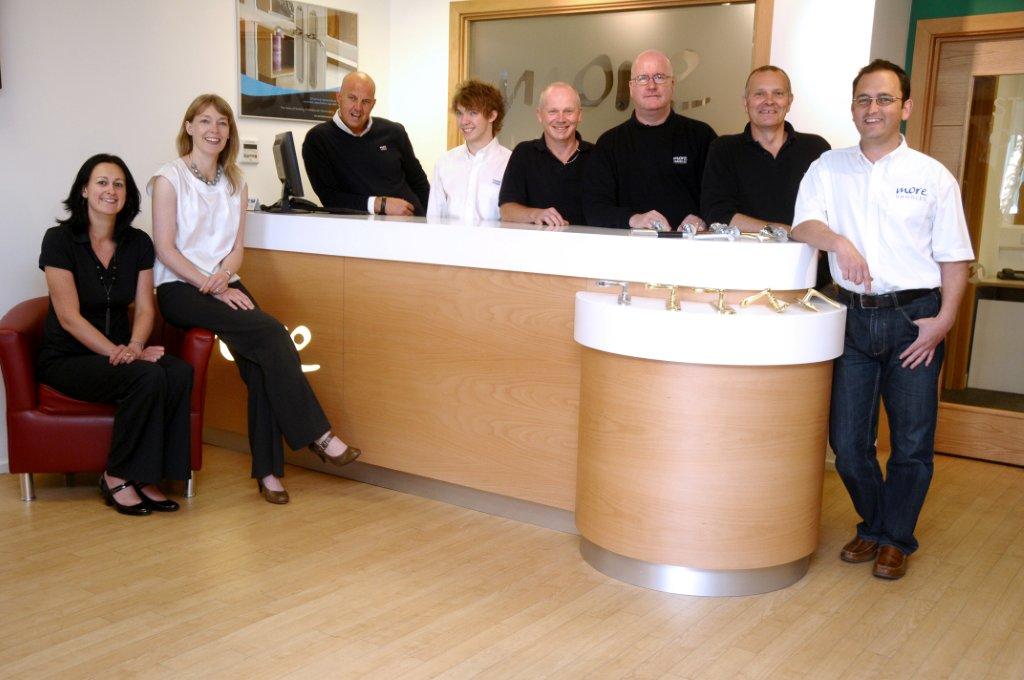 We've got great long-standing relationships with our extensive suppliers, which include; Carlisle Brass, Samuel Heath, TurnstyleDesign, Eurolite, From The Anvil, FTD, Eurospec, De'Leau, Ludlow Foundries, Delamain, Steelworx and Frelan Hardware. Marcus Hardware, Heritage Brass, Zoo Hardware, Fulton & Bray, Foxcote Foundries, Finesse Design, Croft Hardware, Kirkpatrick Ironmongery, Second Nature by PWS, Hettich, Armac Martin and the list is growing, so if there's a particular door handle you're after and can't find one then drop us a line.
Thanks to our developed relationships with these suppliers we're able to stock more than just handles. We offer window fittings, door hinges, door hooks, door locks, door knobs, door catches, front door numerals, front door letterboxes and much, much more. In addition using the TABS at the top of the screen in MORE SWITCHES and MORE HARDWARE you can access thousands more products in our collection of Electrical Switches and Sockets and our range of tools, screws, fixings, workwear and MORE.
If you can't find something on our website then feel free to have a chat with us about your needs on 01228 516516 or on our email sales@morehandles.co.uk.
More Handles. High Quality Ironmongery at Low Internet Prices.